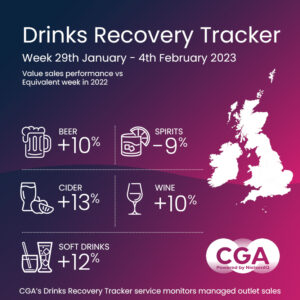 CGA by NielsenIQ's latest Drinks Recovery Tracker shows average sales in the seven days to Saturday (4 February) were 6% above the same week in 2022.
This follows 24% growth in the first week of January and increases of 13%, 11% and 9% in the second and third and fourth weeks—though these comparisons were skewed by the impacts of the Omicron variant of COVID in early 2022. With inflation currently running at just over 10%, it means last week's sales were down from 2022 in real terms.
Strikes by train drivers had only a modest impact on sales at a total market level, which were up year-on-year by 2% and 4% on the two affected days of Wednesday and Friday (1 and 3 February). Sales on the other five days of the week fluctuated, staying flat on Monday (30 January) but hitting a high of 18% on Tuesday (31 January). The start of the Six Nations rugby tournament helped to deliver growth of 7% on Saturday (4 February)
As has been the case since the start of the year, it was a good week for cider (up 13%) and beer (up 10%). Wine (up 10%) and soft drinks (up 12%) also performed well, but spirits sales (down 9%) were behind 2022 for the third week in a row.
"While year-on-year growth has steadily slowed since the start of 2023 as the impact of Omicron falls out of the 2022 comparison period, it is encouraging to see drinks sales still running ahead of this time last year," says Jonathan Jones, CGA's managing director, UK and Ireland. "Despite all the cost pressures facing consumers, many continue to prioritise the On Premise over other areas for their discretionary spending. It's also interesting to note that the latest rail strikes have had a lesser impact on total market sales than previous ones, which suggests that consumers have become accustomed to adjusting their plans."
CGA's Drinks Recovery Tracker monitors managed outlet sales as the drinking-out market continues to recover, providing category, supplier and brand rate of sale performance versus pre-COVID-19 sales. Suppliers and operators that want to track the recovery of drinks sales, benchmark performance or identify changes in trends and consumer preferences should contact jonathan.jones@cgastrategy.com.