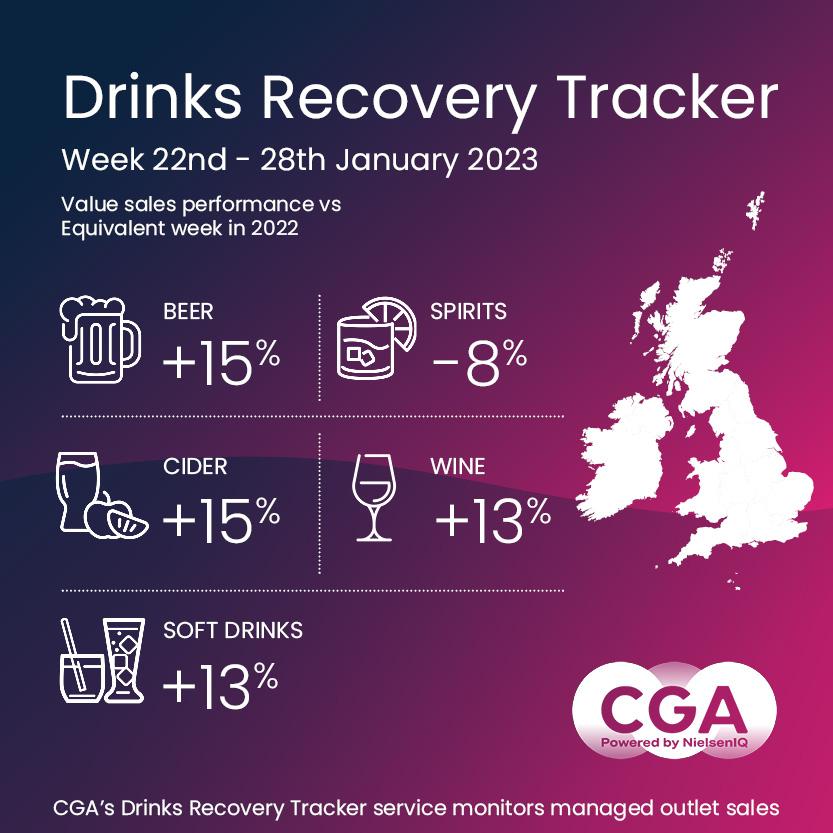 Average sales in the seven days to Saturday (28 January) were 9% above the same week in 2022, CGA by NielsenIQ's latest Drinks Recovery Tracker shows. It follows 24% growth in the first week of January and increases of 13% and 11% in the second and third weeks.
Across the month, growth has been well ahead of consumer inflation. However, it has slowed week by week, and the 9% increase is the first single-digit figure since early December. Comparisons have also been favourable because of the tough January 2022, when the On Premise was disrupted by lingering concerns about the Omicron variant of COVID-19.
Five of the seven days of last week recorded double-digit sales increases, peaking at 18% on Tuesday (24 January). However, the year-on-year growth numbers dipped on Friday (up 6%) and Saturday (up 2%)—a sign that some consumers may be reducing big nights out at the weekend.
This trend is particularly impacting the Spirits category, where sales last week were 8% below the same period in 2022. Beer (up 15%), Cider (up 15%), Wine (up 13%) and Soft Drinks (up 13%) were all well ahead year-on-year.
"January delivered some very welcome year-on-year growth for operators and suppliers, albeit against a weak first month of 2022," says Jonathan Jones, CGA's managing director, UK and Ireland. "It's shown that people still want to drink out whenever possible, but we're starting to see weekend and Spirit sales flatten as some consumers trim their spending. With business and household costs still mounting and more rail strikes looming, February could be a challenging month for operators and suppliers."
CGA's Drinks Recovery Tracker monitors managed outlet sales as the drinking-out market continues to recover, providing category, supplier and brand rate of sale performance versus pre-COVID-19 sales. Suppliers and operators that want to track the recovery of drinks sales, benchmark performance or identify changes in trends and consumer preferences should contact jonathan.jones@cgastrategy.com.