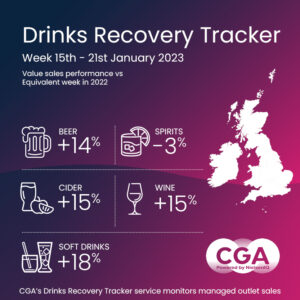 The latest Drinks Recovery Tracker from CGA by NielsenIQ shows average sales in the week to Saturday (21 January) were 11% above the equivalent period in 2022. It follows 24% growth in the first week of January and 13% growth in the second week. All three figures are above the current rate of inflation of 10.5%.
However, the strong start to 2023 is set against tough trading conditions in January 2022, when many consumers were staying at home because of concerns about the Omicron variant of COVID-19.
The Tracker shows drinks sales were in year-on-year growth on each of the seven days of last week—and in double-digit growth for six of them. Comparisons peaked on Sunday (15 January), when they were 17% up on the same day in 2022.
The soft drinks category comfortably outpaced the market, with sales 18% ahead of last year. Beer (up 14%), cider (up 15%) and wine (up 15%) all had good weeks too, but spirits (down 3%) had their worst seven days since November.
"With year-on-year growth topping inflation so far in January, it's clear that consumers are as keen as ever to drink out," says Jonathan Jones, CGA's managing director, UK and Ireland. "Good soft drinks sales show Dry January doesn't have to keep people away from pubs and bars, and it reflects the rising quality and innovation in this category. However, the dip in spirits sales suggests many consumers are watching their spending carefully. It's also important to remember that comparisons are with a very difficult January 2022, so more year-on-year growth is far from certain in the months ahead."
CGA's Drinks Recovery Tracker monitors managed outlet sales as the drinking-out market continues to recover, providing category, supplier and brand rate of sale performance versus pre-COVID-19 sales. Suppliers and operators that want to track the recovery of drinks sales, benchmark performance or identify changes in trends and consumer preferences should contact jonathan.jones@cgastrategy.com.