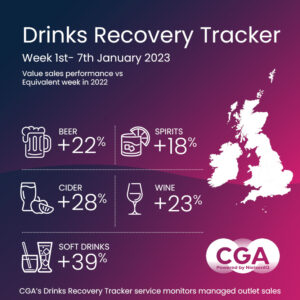 CGA by NielsenIQ's Drinks Recovery Tracker shows average sales in the week to Saturday (7 January) were 24% above the equivalent week in 2022. However, this comparative week was hampered by ongoing concerns about the Omicron variant of COVID, while the 2023 period is inflated by New Year's Day and Bank Holiday trading.
Drinks sales also finished 2% ahead of the same week in 2020, when venues were trading as normal—though after adjustments for inflation, trading is substantially behind.
The data highlights the impact of rail strikes on visits to the On Premise, with sales 17% and 13% down on 2020's levels on Friday and Saturday respectively, when journeys into cities and towns were severely curtailed.
With many consumers embarking on Dry January, it was a very good week for Soft drinks, as sales were 39% and 13% ahead of the same seven days in 2022 and 2020 respectively. All other categories had a positive week compared to the same week in 2022. Spirits (up 18% and 9% vs 2020) cider (up 28% and 7% vs 2020) and beer (up 22% but down 1% in 2020). Wine sales were also up 23% but were down 10% in 2020.
"Year-on-year sales growth was relatively easy against COVID-hit comparatives, but it's still a pleasing start to 2023," says Jonathan Jones, CGA's managing director, UK and Ireland. "Comparisons with pre-COVID-19 patterns are less positive, and we are seeing the results of pressure on consumers' spending, especially in the aftermath of Christmas. Rail strikes are also curtailing trade, and operators will be hoping for relief on these and the many cost challenges in the weeks ahead."
CGA's Drinks Recovery Tracker monitors managed outlet sales as the drinking-out market continues to recover, providing category, supplier and brand rate of sale performance versus pre-COVID-19 sales. Suppliers and operators that want to track the recovery of drinks sales, benchmark performance or identify changes in trends and consumer preferences should contact jonathan.jones@cgastrategy.com.