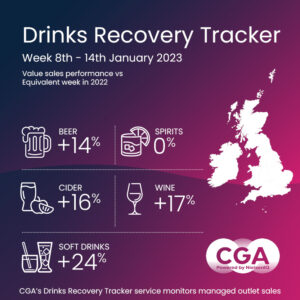 Average sales in the week to Saturday (14 January) were 13% above the equivalent seven days last year. It follows 24% growth in the first week of January and strong increases through most of December, and it is ahead of the current rate of inflation of 10.5%.
However, the positive result comes with two important caveats. Trading in early 2022 was weakened by concerns about the Omicron variant of COVID, while sales are down by 1% against the same week in January 2020—the last equivalent period before the pandemic. After adjustments for inflation, sales are substantially behind pre-COVID levels in real terms.
There was year-on-year growth on each of the seven days of last week, and it topped 20% on Monday, Tuesday and Thursday (9, 10 and 12 January). Increases were slightly weaker at the weekend, at 12% and 8% on Friday and Saturday (13 and 14 January).
Growth was strongest in the soft drinks category (up 24%) as consumers continued Dry January. Wine (up 17%), cider (up 16%) and beer (up 14%) all beat last year by double-digits, but spirit sales were flat—though they were just ahead of pre-COVID comparisons.
"It's been a decent first half of January for the On Premise, with the important proviso that drinks sales are still below where we were before COVID," says Jonathan Jones, CGA's managing director, UK and Ireland. "It's particularly pleasing to see such strong growth in soft drinks, which suggests that consumers who have taken Dry January pledges are still visiting pubs and bars. High household bills may squeeze spending in 2023, but it's clear that consumers remain eager to drink out."
CGA's Drinks Recovery Tracker monitors managed outlet sales as the drinking-out market continues to recover, providing category, supplier and brand rate of sale performance versus pre-COVID-19 sales. Suppliers and operators that want to track the recovery of drinks sales, benchmark performance or identify changes in trends and consumer preferences should contact jonathan.jones@cgastrategy.com.