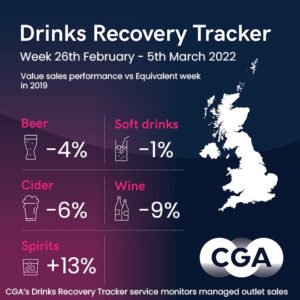 In the week to last Saturday (5 March), average drinks sales by value were just 1% off the same period in 2019. It follows comparison to the same period in 2020 that showed +2% growth in the previous seven days and narrow declines in most weeks in early 2022. However, with inflation currently at high levels and operators faced with significant cost increases, the real-terms shortfall in the value of sales last week will have been significantly steeper.
CGA's Tracker shows sales were exactly flat in both England and Wales, while Scotland suffered a 14% dip. The highpoint in trading came on Sunday 27 February, when good weather, end-of-month paydays and big rugby and football matches combined to increase sales by 29% on the same day in 2019. Daily sales were between 1% and 6% down on every other day of the week.
Jonny Jones, CGA managing director – UK & Ireland

"It's frustrating to see drinks sales still hovering just below pre-COVID-19 levels, and inflationary forces are making real-terms growth even more elusive," says Jonathan Jones, CGA's managing director, UK and Ireland. "While many consumers are returning with confidence to pubs, bars and restaurants, there are signs that some of them may be reining in their spending as mounting cost pressures squeeze their disposable income. Spending will hopefully pick up as the weather improves and Easter nears, with our consumer research showing a strong intention to spend more on visits into trade than they did pre-pandemic, but for now suppliers and operators are having to scrap hard to drive growth in the channel."
There were positive signs in some drinks categories last week, with soft drinks (down 1%) in line with general trends, and beer (down 4%) not far behind. Spirits (up 13%) were again the star performer, but wine sales (down 9%) continue to struggle.
CGA's Drinks Recovery Tracker monitors managed outlet sales as the drinking-out market continues to recover, providing category, supplier and brand rate of sale performance versus pre-COVID-19 sales. Suppliers and operators that want to track the recovery of drinks sales, benchmark performance or identify changes in trends and consumer preferences should contact jonathan.jones@cgastrategy.com