Click here to view this blog in Spanish/Ver este blog en español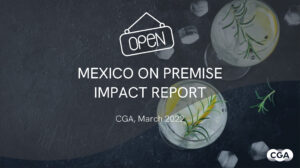 CGA are set to expand their offering across Mexico this year, launching a suite of On Premise insight solutions which have been designed to provide the foundational insights required to help suppliers across the country grow their business more efficiently.
These solutions include OPUS (On Premise User Study), a well-established consumer research program that is a nationally representative study of On Premise users – providing robust insights into brand and category consumption, occasions, missions and drinking preferences. OPUS is used around the world by suppliers to better understand their consumer, for brand strategy development, for sales stories and when working with key account customers.
CGA will continue their phased solutions launch with Outlet Index later in the year. Outlet Index is a world leading On Premise outlet database which tracks every licensed venue, name, address and CGA's proprietary outlet segment in close to 50 countries. Leading beverage suppliers use Outlet Index in many markets to enrich their CRM, better profile their customers and refine their targeting and sales strategy.
This month sees CGA launch their first Mexico On Premise Impact Report, which checks in across On Premise visitors across the country to understand their recent behaviours, how they feel about the channel (including any COVID-19 restrictions), and their intentions for visits in the month ahead.
The first in this series of free monthly reports for the Mexican market reveals that 65% of consumers want to visit bars and restaurants more frequently than they did last year. This is a significant increase on 2021, when just 24% of consumers were planning to visit the On Premise compared to pre-pandemic levels. Most consumers are keen to put the pandemic behind them, with only 15% visiting the channel less, mainly because of concerns around COVID-19.
The majority (85%) of consumers are visiting the On Premise more or the same amount as usual in the last two weeks, and their visits have skewed towards lower tempo occasions such as 'a catch up with friends' (59%) and 'wind down/chill out' (54%).
The report also highlights opportunities for new product development, with 83% of consumers stating they enjoy trying new drinks in bars and restaurants, and 52% who have been purchasing both familiar and new brands in the channel. Consumers in Mexico are keen to make up for lost time, with 86% agreeing they missed visiting bars and restaurants during restrictions.
Across drink-led visits, consumers are opting for familiar categories, with Beer (80%) topping the list for drink choice over the last three months, followed by Soft drinks (59%) and Tequila (52%). Cocktails also rank highly (38%), mirroring a global shift towards offerings that consumers haven't been able to replicate at home during COVID-19 restrictions.
CGA's regional director – North America, Matthew Crompton said: "As a global business, CGA have the benefit of analysing the post-COVID-19 recovery of the sector across multiple regions, and it's clear that operators and suppliers alike need clear and actionable insights to drive sales and consumer engagement. However, what will be critical to the growth of the Mexican hospitality industry will be understanding the local nuances of the sector, which is why we're pleased to launch our first On Premise Impact Report for the Mexican market. This report is free for all, not just CGA customers, allowing suppliers to access insights and analysis that is specific to the Mexican On Premise."
Click here to download the Mexico On Premise Impact Report
To learn more about CGA's consumer research and market measurement services across Mexico, please contact Matthew Crompton at matthew.crompton@cgastrategy.com