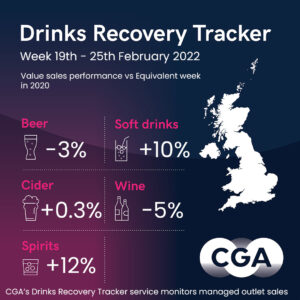 After last week's washout, due to storms Eunice and Dudley, average drinks sales by value in Britain's managed pubs, bars and restaurants in the week to Saturday 26 February, were 2% above the same week in 2020 thanks to positive performance across nearly every day of the week. Calmer weather, the lifting of COVID-19 restrictions, as well as Six Nations fixtures, contributed to give the trade its first positive boost for nearly four months.
Performance didn't start out brightly on Sunday as storm Franklin put the day -8% behind two years ago. The rest of the week, except Friday (-5%), experienced positive growth, with Tuesday (+13%) and Saturday (+8%) performing particularly well. Saturday benefited from England vs Wales and Scotland vs France in the Six Nations, with the same round of fixtures in 2020 seeing England playing a day later on the Sunday.
Spirits once again displayed better performance across categories, at +12% ahead, but unlike recent weeks, other categories also contributed to overall growth. Soft drinks finished up +10%, likely aided by half-term, whilst cider benefited from sunshine- finishing slightly ahead (+0.3%) of 2020. Despite a decline, beer wasn't too far away from parity at -3% (aided by the rugby on Saturday at +9%), whilst wine's performance ( -5%) is the first time the category hasn't been in double digit decline since November.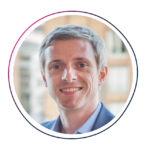 "It is really encouraging to finally see average sales now above where we were pre-COVID-19, something we have been anticipating since restrictions began to be eased back at the start of the year" said Jonny Jones, CGA's managing director – UK & Ireland. "The return of fans in stadiums and pubs being able to enjoy sporting events has been a big boost to the trade, which we expect to continue to be a theme in 2022, particularly with the World Cup on the horizon. We will be hoping that consumers continue to drive the average above two years ago, as businesses look to make up heavy losses sustained during restricted periods over the last two years."
CGA's Drinks Recovery Tracker monitors managed outlet sales as the drinking-out market continues to recover, providing category, supplier and brand rate of sale performance versus pre-COVID-19 sales. Suppliers and operators that want to track the recovery of drinks sales, benchmark performance or identify changes in trends and consumer preferences should contact jonathan.jones@cgastrategy.com.