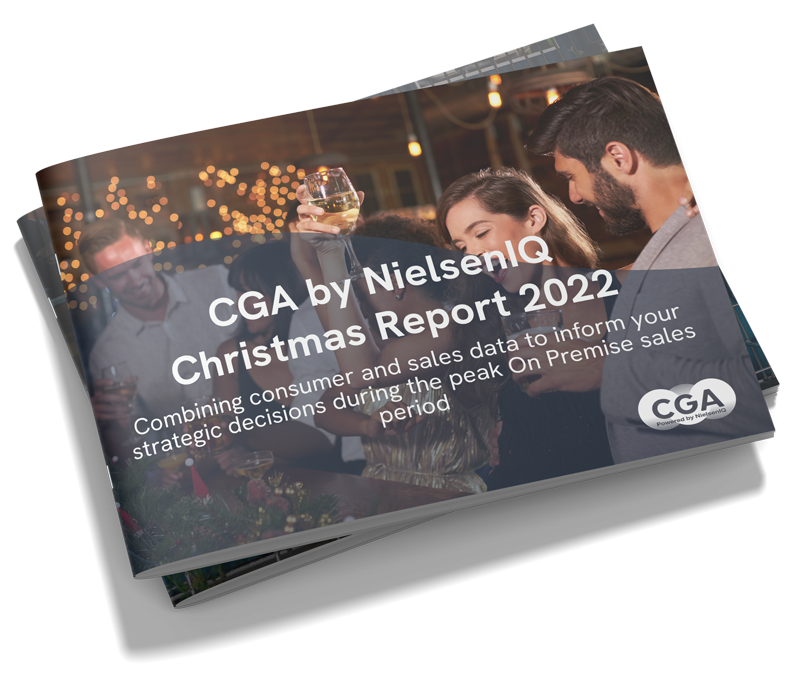 CGA's Christmas Report reveals that 78% of consumers went out over the festive period— 20 percentage points more than in 2021, when fears about the Omicron variant of COVID-19 kept some people at home. The figure is now level with the number typically who went out over Christmas before the pandemic.
The survey suggests most consumers have overcome COVID-19 concerns. 86% say they now feel confident about visiting the On Premise—a jump of 16 percentage points in 12 months. Separate CGA research has shown solid eat-in and delivery sales for managed groups over Christmas, boosting optimism for spending in 2023.
CGA's Christmas Report also reveals some important changes in consumers' On Premise habits. It shows 41% of consumers visited a casual dining restaurant in 2022, up by four percentage points on 2021. Numbers visiting pubs increased too, but hotel and nightclub visits both fell. Well over half of consumers went out for relaxed or quiet drinks (60%) or casual meals (55%)—year-on-year increases of 16 and four percentage points respectively—but numbers having after-work drinks halved, from 20% to only 10%. Special occasions account for 11% of visits in Britain but 23% of total drinks spend, highlighting that operators can still capitalise on upcoming events like the Rugby Six Nations tournament, Valentine's day, and other On Premise dates.
CGA client director Paul Bolton said: "We are seeing a major shift towards casual occasions and venues after COVID, as people prioritise relaxed times with family and friends over formal meals and drinks—and with spending so tight, that trend is likely to continue. While people continue to return to offices, at-home and hybrid working patterns will hit after-work drinks hard, and replacing these occasions will be essential."
Nearly a quarter (23%) of those who didn't go out over Christmas said it was because they had less disposable income, while 30% said prices were too expensive now. CGA's Q4 2022 Business Confidence Survey with Fourth found that operators had increased their food and drinks menu prices by 13% and 11% respectively in the last 12 months—and more rises will have to follow in 2023.
The On Premise remains a key hub for drinks trial and experimentation, with nearly 1 in 3 consumers trying new drinks over the festive period. With less money in their pockets, consumers are more selective and have higher expectations than ever when they go out. They want good value for their extra spend, which means not just high quality food and drink but memorable all-round experiences. Venues that can't deliver experiences over and above what consumers can get at home will be at risk.
Paul Bolton said: "This research shows consumers are as keen as ever to enjoy pubs, bars and restaurants when they can. A strong end to trading in December has created good momentum for 2023, but the cost of living crisis is casting a shadow over spending. Finding the right balance of quality and value will be crucial—as will reassuring the small but significant number of people who remain anxious about COVID-19."
CGA's Christmas Report flags more changes in habits, including moves by some consumers away from premium venues and drinks, and shifts in drinks preferences. The research provides suppliers and operators with vital intelligence about big On Premise opportunities and challenges, and insights to optimise strategies in 2023.
To learn more about the Christmas Report and how CGA's On Premise and consumer research can unlock sales and share in 2023, email CGA client director Paul Bolton at paul.bolton@cgastrategy.com.