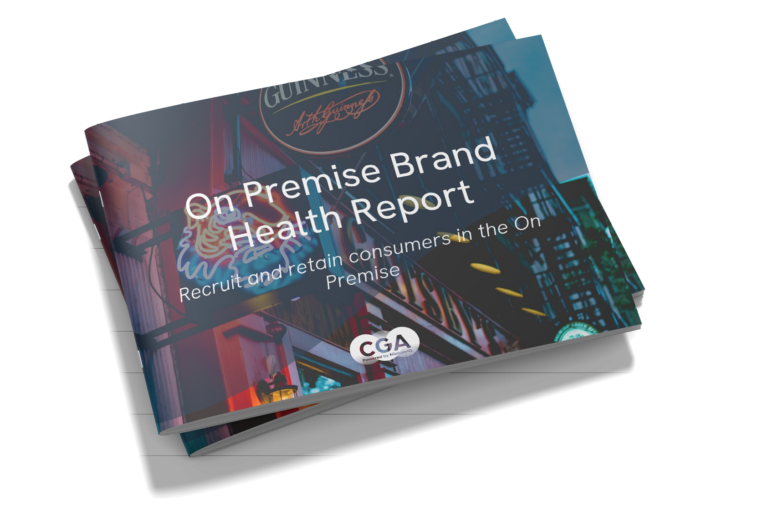 Pre-COVID-19, Gin has experienced some degree of popularity decline. According to CGA's On Premise Measurement solution (OPMS), the category's value share of Britain's total spirits market has declined by five percentage points (pp), down to 19% from a more prominent 23% in 2019. As a result of such a drop, gin has now fallen behind vodka – which today represents 29% of the British On Premise spirits value – and it is even behind liqueurs and speciality drinks (22%).
The share loss can be largely attributed to a decline in frequency of consumption, with research showing that a remarkable 28% of gin consumers are now drinking it less than they did last year (lapsed consumers). These imbibers are heterogeneously distributed across different age groups: 28% are over 55, a demographic that represents less than a quarter of all gin drinkers, while 24% are in the 25-34 year old segment, which instead provides the category with 27% of its drinkers. A mere 11% of gin consumers are aged 18-24 (down from 15% in 2020): while this demographic is responsible for only 6% of lapsed gin drinkers, targeting this age group when recruiting new On Premise users into the category will be critical to ensure long term profitability. With two out of five gin consumers being aged between 35 and 55 however – and 42% of them drinking gin less frequently than last year – Gen Xers and millennials are certainly turning away from gin in larger numbers.
Reduced visitations to the On Premise plays a key role in this shift, as 6pp more gin drinkers go out less than in 2019 compared to the average consumer – particularly the older demographic. To target consumers who are still committed to visiting the On Premise regularly, brands and suppliers can rely on the potential of CGA's BrandBuilder tool, an annual research survey of 10,000 On Premise consumers, across over 500 brands and brand variants. BrandBuilder allows brand owners to understand these consumers' profiles, their go out occasions, and their brand and category purchase drivers once in the On Premise.
Indeed, appreciating each demographic's ongoing interaction with the category, as well as their unmet needs and resulting opportunities are key for Britain's On Premise suppliers to building a long-term sustainable distribution strategy and relevance within the market.
Category shifts, cost of living and healthy drinking
CGA's data show that Rum seems to have welcomed the largest pool of former gin drinkers, with 16% of them now choosing the sugar cane spirit category more frequently compared to last year. Rum's appeal comes as a result of significant innovation within the category, with an expanding offer of attractive flavoured expressions. According to the latest data, over half of lapsed gin drinkers consume rum at least on certain occasions, and a remarkable 40% most or every time, showing that the category is capturing a growing share of the British On Premise market.
Yet, gin's challenges are not limited to high-proof beverages. Wine remains a major competitor, although admittedly less than 7% of former British gin drinkers have migrated to the category: 44% of lapsed gin consumers drink wine most of the time they visit bars, restaurants and pubs – 4% more than the average British drinker – and over 12% order it all the time.
Alongside competitor spirits and wine categories, gin consumption is also being affected by growing moderation trends, with our data showing that gin drinkers are more inclined to reduce their alcohol intake compared to the average On Premise user. As British consumers limit their alcohol intake, they are also increasingly embracing soft beverages. Nearly 20% of former gin imbibers order soft drinks more frequently compared to last year, and over two thirds do it most times they visit the On Premise or on every occasion.
The perception of gin as an expensive drink choice in bars, restaurants, and pubs is also affecting it's On Premise success, a concern that is further aggravated by the rising cost of living. BrandBuilder confirms these findings: when asked what would tempt them to return to the category, 26% of lapsed gin drinkers quoted offers and discounts, 13% mentioned lower-abv serves, and 11% healthier or lighter options.
In addition to these shifts, gin remains an incredibly competitive category, with a wide array of flavoured and non-flavoured expressions available for consumers to choose from. Indeed, while the overall gin category is maintaining its position on the back bar – the average number of gin brands stocked has actually increased since 2019 – On Premise venues are thirsty for innovation and are increasingly swapping regular gins with flavoured expressions to quench their thirst. The number of flavoured gin has in fact risen by 38% since before the pandemic, whilst non-flavoured expressions have fallen by -21%.
Despite such a challenging scenario, the data show that brands can still capitalise on the gin market. To do so however, suppliers should ensure they keep consumers engaged, and offer great tasting expressions and appealing serves, particularly to drinkers who are seeking a more premium experience. Suppliers are also expected to demonstrate strong brand rationale to protect their gin's place on the bar, particularly non-flavoured expressions.
CGA's Volume Pool Analysis and BrandBuilder can support brands in the process. Volume Pool Analysis is designed to enable brands to foresee performance in a range of scenarios – for instance if stocked in the back bar alongside a competitor – helping them develop sales strategies accordingly. Meanwhile, BrandBuilder delves into the reasons that motivate consumers to choose one brand over another when presented with the choice of both, gives insight into why consumers might be keen to find a brand in the On Premise, shows which brands people are willing to trade up for, and which they identify as trusted and valuable.
These elements are key to developing a strong, wide-ranging selection that captures all demographics who interact with the On Premise, and to building effective sales stories too.
CGA by NielsenIQ's BrandBuilder service evaluates drinks brands' health in the On Premise, and can help businesses attract new consumers, increase frequency of purchase, build brand loyalty and grow market share. It combines CGA's market-leading consumer research with sales and distribution data to provide detailed analysis of brands' strengths, weaknesses and opportunities.
To learn more, read more information on CGA's Brand Health Report and contact Paul Bolton, Client Director at Paul.Bolton@cgastrategy.com