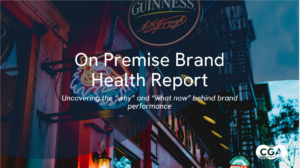 The new On Premise Brand Health Report, powered by BrandBuilder, is the best way for suppliers to pinpoint the strengths, weaknesses, opportunities and threats for their brands. It provides bespoke analysis, tailored to key brands in the On Premise, and opens up crucial advantages in a market where spending is likely to be increasingly squeezed in the second half of 2022.
CGA research has highlighted the pivotal role of pubs, bars and restaurants in building brands—especially new ones. Nearly two thirds (62%) of sales for the top 10 new products over a two-year period came from the On Premise, and nearly three quarters (71%) of consumers trial the average drinks brand there before purchasing it in the Off Premise too.
Data also shows how COVID-19 has changed the way people engage with brands, putting new value on factors like digital ordering, experience, serve and social media. A post-COVID-19 focus on health means it can be particularly tough to build brand equity in the competitive no and low alcohol market.
The On Premise Brand Health Report is driven by CGA's powerful BrandBuilder service, which surveys around 10,000 On Premise consumers every year to get in-depth views on more than 500 brands and variants. This research uncovers fresh insights into consumers' paths to brand discovery and purchase, and the channels and occasions they use.
BrandBuilder also helps suppliers to:
Assess performance against brands' purpose and values
Compare perceptions with category competitors and work out how to beat them
Learn the level of brand advocacy and loyalty
Work out what is needed to increase purchase frequency and acquire new fans.
CGA client director Paul Bolton says: "With competition so high and consumers increasingly careful with their spending, it is more important than ever to know exactly how their drinks brands are playing in pubs, bars and restaurants. Our On Premise Brand Health Report is a great way for suppliers to optimise strategies to keep loyal users, win back lapsed drinkers and recruit new ones."
To learn more and purchase the On Premise Brand Health Report, click here and email CGA client director Paul Bolton at paul.bolton@cgastrategy.com.