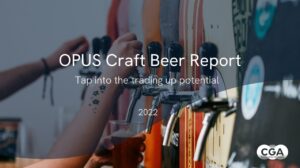 Craft Beer sales make up 9% of total beer and continue to gain share of the category along with other premium beer styles like World lager. Craft beer sales surpassed £1.1bn over the last year, an increase of +4.5% vs pre-COVID-19 levels. Yet there is continued disconnect and polarisation in the consumer base around what makes craft beer 'craft'. Flavour, quality, and style rank above other factors such as heritage, or the quantity at which a beer is brewed. In fact, flavour and superior ingredients are the top two factors cited by consumers, followed by "not mass produced", "not owned by a big brewery" and "produced by an independent company", suggesting rich pickings for smaller and niche brands alongside the tried and tested brands in the category.
Craft beer is primarily getting chosen over other products as consumers (29%) prefer the taste and indulge in craft beer as a treat (23%) or a special occasion drink. But quality is the utmost driver to a brand, followed by value for money in terms of worth rather than being cheap. In fact, a mere 4% of craft beer drinkers are solely driven by cheaper price tags, which is half the proportion of lager consumers.  Brand reputation and bar tender recommendations are also contributory factors.
CGA's BrandBuilder service breaks down the key drivers for why consumers choose a specific craft beer compared to a lager. The major over-indexing factors show that they favour new and interesting brands, a drink they can't replicate at home, quality, treating themselves and being tempted by something that stands out on the menu.
In addition, 29% of craft beer drinkers are drinking the category more frequently than they did past year in the On Premise compared to 13% who are drinking it less frequently. And with one in five craft beer drinkers proactively seeking out new and interesting brands, the findings in the report suggest an optimistic outlook for tried and trusted brands or brand families that deliver.
The data also highlights how craft beer could be a key footfall driver for venues. This is because it can deliver more of a unique On Premise experience based on a premium or treat drinking rather than brand loyalty, (which is a more common driver for lager). The potential rewards are an enticing proposition for craft beer suppliers to drive quality new brands in the On Premise.
Mark Jackson, Client Director – GB Drinks said: "The report demonstrates robust health in the craft beer category. There's continued high propensity for consumers to trade-up in the On Premise for treat and special occasion drinking, which bodes especially well during the Christmas trading period. This could see some high levels of consumption in the On Premise, with treats and special occasions upmost on consumer's minds. It stands craft beer suppliers and the venues that buy into the category in good stead in terms of premiumisation and new product potential in the challenging new year ahead."
CGA's unrivalled OPUS consumer research helps drinks suppliers track On Premise trends, support operators with channel strategies and unlock new sales opportunities across all drinks categories and channels.
Download more information on CGA's OPUS Craft Beer category report here, which explores the key occasions and channels for craft beer consumption, drivers to purchase, frequency of consumption, and the most popular brands, plus much more.
To learn more about optimising On Premise channel strategies with sales and consumer insights and unlock growth in the category, contact Mark Jackson, CGA client director at mark.jackson@cgastrategy.com