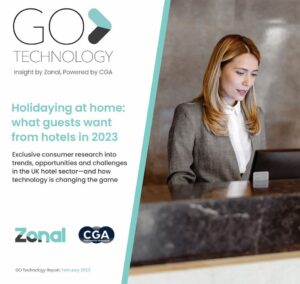 COVID-19 and flying restrictions triggered a wave of staycations in 2020, a trend that has not disappeared in the 'new normal'. While the international travel market continues to make up for lost ground, it's likely to be another bumper year domestically. The pandemic reminded people of the wealth of attractions and high-quality hotels available in the UK. Post COVID-19, the cost-of-living crisis and growing concerns about the sustainability of air travel are fuelling the trend for homegrown holidaymaking.
The latest research shows more than a third of consumers haven't visited a hotel abroad in the last year. Additionally, it demonstrates how 85% of the 55+ age group are likely to visit a hotel in the UK, compared to the 58% planning on staying in one abroad.
Despite hotel stays rising, high household bills threaten to dampen people's spending. Among consumers who are visiting hotels less often, nearly 3 in 5 consumers attribute this to cost of living increases, especially amongst 35 to 54 year-olds (70%), for whom foreign travel is likely to fall. In turn, this presents opportunities for domestic hotels in the UK.
With consumers keeping a tighter grip on the purse strings, it's no surprise that 56% of hotel visitors in 2022 stayed at budget or value-led chains — much more than those staying at leisure hotels, boutique hotels, or pubs with rooms.
Nearly half of hotel visitors (48%) said they stayed for a weekend break—the most popular occasion ahead of holidays (31%), representing potential for shorter trips.  But with celebrations or functions, day trips, business travel and journey stop-offs contributing to the mix, hotels clearly have a very broad appeal.
Karl Chessell, director – hospitality operators and food, EMEA said: "While ongoing cost of living concerns continue to challenge the hospitality industry, the staycation boom is a welcome guest to UK hotels. CGA by NIQ & Zonal's research equips hotels and other accommodation providers to digitally target specific consumer demographics, externally and in-house, to optimise occupancy, on-site spend per head, repeat custom and brand equity. Overall, it remains the case that brands staying ahead of the game and flexing to shifting market conditions are best-placed to leverage staycations, both in the short and longer terms."
GO Technology research from CGA by NIQ and Zonal unlocks many more insights into the use of tech to improve experiences in restaurants, pubs and bars. To learn more about the reports, click here  and email CGA client director Andy Dean at andrew.dean@cgastrategy.com.