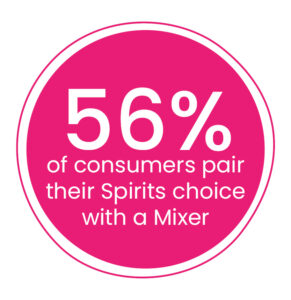 CGA's On Premise User Survey (OPUS) shows the Mixer is the most popular serve style for Spirits consumers, with more than half (56%) choosing to pair their Spirits choice with a Mixer.
CGA's On Premise Measurement data has shown how Spirits have flourished in Ireland since the end of lockdown, with particularly positive trends in Whiskey and Vodka. This has had a valuable knock-on effect on Mixers, which have gained nearly two percentage points of total Soft Drinks sales year-on-year, now accounting for a quarter (25%) of all Soft Drinks sales by value in the year to January.
However, to maximise sales and share, suppliers and operators will need to understand Spirits consumers' latest habits, and track how COVID-19 has changed behaviour in subtle but significant ways.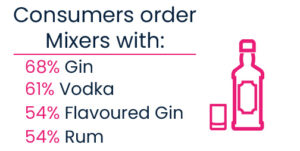 For example, OPUS data indicates that mixers remain most popular in the Gin category, where two thirds (68%) of drinkers choose one—followed by Vodka (61%), flavoured Gin (54%) and Rum (54%). With Gin sales now falling after several years of growth, and drinkers switching to other spirits, it is particularly important to understand serve preferences to ensure you are implementing the right serve strategy in-outlet.
In Vodka, Cola is the mixer of choice for 44% of drinkers, ahead of Lemonade (27%) and Energy Drinks (19%), while Tonic remains the most popular Mixer for drinkers of both non-flavoured (72%) and flavoured (50%) Gin.
CGA's research also has crucial insights into serve styles and opportunities for trade-ups. While standard bottled Mixers remain the top choice for Brandy, Gin, Rum, American Whiskey and Vodka drinkers, 40% of non-flavoured Gin consumers now choose premium brands. There are signs that draught Mixers are growing in popularity too, with Brandy consumers the most likely to opt for them.
Sian Brennan

"Spirits sales are flourishing in Ireland, so there are exciting chances to ramp up Mixer sales in 2022," says Sian Brennan, CGA's client director, Ireland. "But with competition intensifying and preferences evolving, it will be crucial to get strategies in ranging, pricing and serve styles spot on. There are lots of factors to consider, and brands that can track the latest sales and behavioural trends and respond nimbly will have an important head start."
CGA's OPUS research, OPM service and Mixed Drinks Report provide many more important insights into the mixers and spirits segments, helping suppliers and operators pinpoint opportunities and refine promotional, pricing and serving activity. To learn more, email Sian Brennan at sian.brennan@cgastrategy.com.