Click here to read this article in German
Klicken Sie hier, um diesen Blog auf Deutsch anzuzeigen.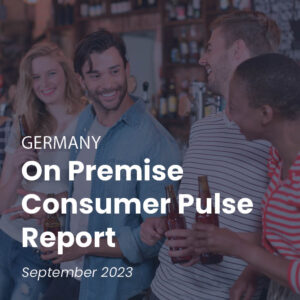 A multi-purpose venue is an outlet that offers a variety of amenities or occasion, as well as ticketless events, often held in open air. Venues that offer a variety of amenities or occasions and can flex their offer across dayparts provide consumers with an appealing all-under-one-roof hospitality experience.  
But who exactly are these multi-purpose site guests, and what do they want? Here are just five of the top takeaways from the new Pulse Report.  
1 More than half of consumers have visited a multi-purpose venue 
The Consumer Pulse survey shows just over half (52%) of consumers have visited a multi-purpose venue before, while three in ten (30%) are very or somewhat likely to use one in the next few months. Only 14% are very unlikely to do so. 
2 Gen Z are particularly engaged 
Consumers in the Gen Z age group are heavy users of these types of venues. Two in three (66%) have visited one before—14 percentage points more than the average among all consumers. This suggests that use of multi-purpose sites will continue to grow. 
3 Guests are typically urban and affluent 
Three in five (61%) users of multi-purpose venues live in city or town centres—ten percentage points more than the number who have not been to one. Users have an average household income of €49,304—more than €3,000 more than non-users—and well over half (57%) visit the on Premise at least weekly. 
4 Guests want fun, good vibes and new experiences 
Asked about their reasons for visiting a multi-purpose venue, 34% told the Consumer Pulse survey that they go because it's fun. Other popular factors include the overall vibe / atmosphere (29%) and a desire to try something new (23%). 
5 Convenience is key 
The list of reasons why people don't visit multi-purpose venues is topped by a lack of such venues nearby (32%). Other consumers can be put off by loud noise (26%), expense (19%) and busy spaces (16%).  

CGA by NIQ's consumer research delivers many more exclusive insights into consumer habits and preferences in Germany's On Premise, helping suppliers, manufacturers and operators to craft successful strategies and gain market share. The OPUS Select service also offers bespoke research to help businesses explore specific topics, categories, channels, occasions, demographics and more. OPUS Core subscriptions provide deep dives into consumers' behaviour with granular detail and analysis of how key trends are impacting the sector.  
You can download the full Germany On Premise Consumer Pulse Report for free here.  
To learn more about CGA by NIQ's unrivalled suite of services in Germany and how it can help your business, please email bilal.kaddouri@nielseniq.com.