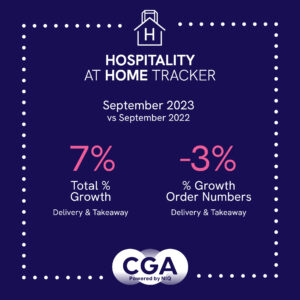 CGA by NIQ's Hospitality at Home Tracker shows delivery trading was 10% higher than in September 2022. By contrast, takeaway and click-and-collect sales were down by 3%. Deliveries accounted for 71 pence in every pound spent by consumers on at-home orders last month, while takeaways attracted 29 pence. 
Combined delivery and takeaway sales in September were up by 7% year-on-year, the Tracker shows. It is a fourth consecutive month of growth following 18 months of negative numbers in the aftermath of the COVID-19 pandemic, when consumers switched back from ordering in to eating out.
Karl Chessell, CGA by NIQ's director – hospitality operators and food, EMEA, said: "After a surge during COVID restrictions and a steady fall when they ended, restaurants' at-home sales are settling into a new pattern of solid year-on-year growth. Lockdowns and the convenience of ordering platforms have led millions of consumers to move from takeaways to deliveries, and we can expect more migration in 2024. Restaurants will need to carefully manage the logistical and financial aspects of their relationships with third-party aggregators if they are to optimise customers' experiences and profit margins in the delivery channel." 
The CGA Hospitality at Home Tracker is the leading source of data and insight for the delivery and takeaway market. It provides monthly reports on the value and volume of sales, with year-on-year comparisons and splits between food and drink revenue. It offers a benchmark by which brands can measure their performance, and participants receive detailed data in return for their contributions.  
Partners on the Tracker are: Azzurri Group, Big Table Group, Byron, Cote, Dishoom, Five Guys, Gaucho Grill, Giggling Squid, Honest Burgers, Island Poke, Nando's, Pizza Express, Pizza Hut UK, Prezzo, Rosa's Thai, TGI Fridays UK, The Restaurant Group, Tortilla, Wagamama and YO! Sushi. Anyone interested in joining the Tracker should contact Karen Bantoft at karen.bantoft@nielseniq.com.