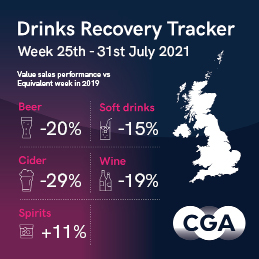 Those are some of the insights from CGA's latest Drinks Recovery Tracker, which shows that average drinks sales by value in the seven days to last Saturday (31 July) were 14% down on the same week in 2019. This is a solid improvement on the 19% drop in the previous seven days, and a 27% shortfall in the week before that.
England's drinks sales were slightly ahead of Britain's average, at 13% down, but Wales (down 24%) and Scotland (down 27%) were further back. Wales and Scotland have both maintained restrictions including distancing and masks after England's 'freedom day', but are due to end them on Saturday and Monday (7 and 9 August). This will bring venues back towards capacity—although as has been the case in England, many venues are likely to voluntarily keep some limits in place.
Drinks sales last week were boosted by decent weather and widespread 'staycations' as the school holidays began. However, they continue to be held back by mixed consumer confidence, which has seen some people return enthusiastically to pubs, bars and restaurants, but others remain cautious.
The Tracker also has signs that weekend drinking-out occasions may be starting to gather momentum. After modest trading on Wednesday (down 21%), Thursday (down 18%) and Friday (down 22%), drinks sales on Saturday were just 4% down on the same day in 2019.
With high tempo and late night occasions in bars and nightclubs returning, spirits enjoyed a second successive week of strong sales. After a 2% year-on-year increase in the previous seven days, spirits sales last week were 11% higher than on the same period in 2019. This was a significant outperformance of other categories like beer (down 20%), cider (29%), wine (down 19%) and soft drinks (down 15%).
Drinks sales are still a way off where they should be at this time of year, but the ending of restrictions on group sizes, closing times and bar service has helped to haul them back," says Jonathan Jones, CGA's managing director, UK and Ireland. "It's particularly encouraging to see weekend occasions picking up, and breathing life into the late night sector after an extremely difficult 16 months. Whilst challenges remain for the sector, recovery is now properly underway in England's On Premise, and we can be optimistic that Scotland and Wales will follow a similar path when their restrictions finally ease."
CGA's Drinks Recovery Tracker service will continue to monitor sales as the drinking-out market continues to recover, providing category, supplier and brand rate of sale performance versus pre-COVID-19 sales. Suppliers and operators that want to track the recovery of drinks sales, benchmark performance or identify changes in trends and consumer preferences should contact jonathan.jones@cgastrategy.com.