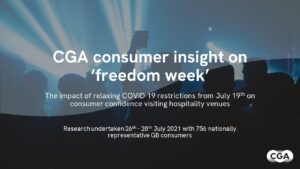 Just over half of consumers have returned to Britain's restaurants, pubs and bars since 'freedom day', new research from CGA reveals—but with many people still cautious, trading remains well below pre-COVID levels.
CGA's latest Consumer Pulse survey found that 56% of consumers have visited venues in the ten days from Monday 19 July. It is five and 12 percentage points high than the numbers who visited within ten days of venues reopening for outside and inside service in mid-April and mid-May respectively. In total, just under three quarters (73%) have returned to the out-of-home market since venues were allowed to open in April.
However, two in five (42%) consumers say they have been out less often than they normally would have done before COVID—twice the number who have visited more often (21%). Among consumers who have not yet been out, two in five (41%) cite concerns about close proximity to other people, and a third (32%) say it will take a while to feel comfortable visiting venues again.
With many consumers still hesitant about going out, separate CGA research shows trading remains well below pre-pandemic levels, despite the easing of restrictions and the reopening of venues including nightclubs. CGA's Drinks Recovery Tracker data indicates that drinks sales per outlet in England in the week following 'freedom day' were 18% lower than the same week in 2019. Sales on the day itself (Monday 19 July) were down by 6% on the equivalent Monday in 2019, but there  were encouraging signs for the market recovery over the weekend, with Saturday sales down just 2% vs. 2019.
Jonny Jones, CGA's managing director, UK and Ireland. "The easing of COVID restrictions was a huge relief to the licensed sector, but it is clear there will not be a sudden release of spending from all consumers. With confidence amongst some groups still fragile as Covid cases remain high, there is still a way to go before we return to pre-pandemic norms.
"Overall, confidence to visit the sector has seen a slight drop over the last 2 months, with 53% confident, compared to 56% in May. However, this drop is driven by older and typically less frequent visitors, whilst confidence amongst the younger demographic continues to see slight growth. Of 18-34 year olds, 66% are now confident to visit On Premise venues, up 1% compared to May.
"So, businesses will need to continue working hard to reassure people, particularly the older demographics, that they are in safe hands when they eat and drink out. The sector will also need continued support from government to sustain it through this latest phase of recovery, with extensions to business rates relief and VAT reduction still high on the agenda for operators."
All numbers are based on CGA's Consumer Pulse survey of 756 nationally representative consumers from 26 to 28 July; and from CGA's Drinks Recovery Tracker, the leading measure of drinks sales in Britain's licensed premises.