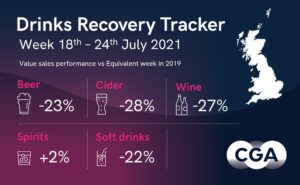 Drinks sales per outlet by value in the seven days to last Saturday (24 July) remained well short of pre-COVID levels, ending the week down by 19% on the same period in 2019. However, this was a notable improvement on the 27% drop in the previous seven days—thanks in part to a welcome boost on 'Freedom day' (Monday 19 July), when sales were just 6% below the same day in 2019, and similar trading over the weekend, with Saturday's sales down just 5%. This is despite government imposed restrictions still being in place across Scotland and Wales and many operators in England choosing to continue implementing some of their own.
While trading was down by between 18% and 26% on 2019's levels on each day from Tuesday to Friday, Saturday saw only a small decline of 5%—an encouraging sign that drinkers are taking advantage of greater freedom and may be starting to get back to the kind of weekend drinking occasions seen before COVID.
The reopening of nightclubs and other late-night venues, along with the easing of drinking restrictions in other pubs and bars, gave spirits sales a much-needed boost. Their sales last week were 2% up on the same week in 2019—a far better performance than categories including beer (down 23%), soft drinks (down 22%) and wine (down 27%).
Restaurants also enjoyed one of their best weeks for drinks sales since the reopening of hospitality in the Spring, with their value down 19% across last week.
Nightclubs and bars have been hardest hit of all by the pandemic, and the signs of life that we saw in both segments last week were hugely welcome," says Jonny Jones, CGA's managing director, UK and Ireland. "However, there's no escaping the fact that sales are still behind pre-pandemic levels. With many consumers still anxious about COVID, and operators facing major challenges on staffing and other fronts, it will take time before the On Premise gets back to normal—but some green shoots of recovery are at least starting to emerge."
CGA's Drinks Recovery Tracker service will continue to monitor sales as the drinking-out market continues to recover, providing category, supplier and brand rate of sale performance versus pre-COVID-19 sales. Suppliers and operators that want to track the recovery of drinks sales, benchmark performance or identify changes in trends and consumer preferences should contact drinkscs@cgastrategy.com.