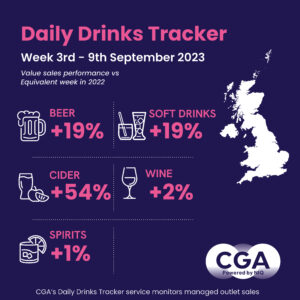 CGA by NIQ's Daily Drinks Tracker shows average sales in managed venues in the week to Saturday (9 September) were 16% ahead of the same period in 2022, as consumers flocked to pub gardens and terraces. It was a very welcome boost to sales after growth of just 1% in each of the previous two weeks. After the Coffer CGA Business Tracker revealed solid trading for managed groups in August, it is another sign that consumers remain eager to visit pubs, bars and restaurants despite pressure on their spending.
Daily sales were in double-digit growth on six days last week, peaking at 25% and 24% on Monday and Tuesday (4 and 5 September). On Saturday, the hottest day of the year so far, daily drinks sales managed to achieve a commendable 6% growth rate.
High temperatures led to a boom in sales for the Long Alcoholic Drinks (LAD) category. Cider sales rocketed 54% from the same week last year, while beer was up 19%. Soft drinks sales rose 19%, though wine (up 2%) and spirits (up 1%) had a much quieter week.
"After dismal weather through August and weeks of flat sales, last week's sunshine was a great relief for operators and suppliers," says Jonathan Jones, CGA's managing director, UK and Ireland. "As we would expect, it was a particularly stellar week for pubs with outdoor spaces and beer and cider brands. As the temperatures drop and we move towards the last quarter of 2023, where like-for-like sales growth will be less impacted by weather, this flurry of sales will hopefully provide some momentum for trading."
The Daily Drinks Tracker provides analysis of sales at managed licensed premises across Britain, and is part of CGA by NIQ's suite of research services delivering in-depth data on category, supplier and brand rate of sale performance. To learn more, click here and email jonathan.jones@cgastrategy.com.