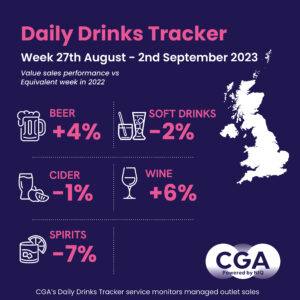 CGA by NIQ's Daily Drinks Tracker shows average sales in managed venues in the week to Saturday (2 September) finished 0.4% ahead of the same week in 2022. It follows growth of 1% and 5% in the previous two weeks, which came after five successive weeks of negative numbers. 
It rounds off a disappointing July and August, after cool weather kept many people away from beer gardens and terraces. Rail strikes also dented footfall last week, but there are high hopes that hot conditions will make September a much better month for operators and suppliers.  
Sales were ahead of last year's levels on four days last week. Growth peaked at 5% on Sunday (27 August) and 2% on Saturday (2 September), with a high-profile boxing match involving Chris Eubank that day helping to compensate for rail disruption. However, year-on-year comparisons fell to -4% and -6% on Tuesday and Wednesday (29 and 30 August). 
Wine was the best performing category in the On Premise last week—as has been the case for most of 2023—with sales finishing 6% ahead of the same week in 2022. CGA's Wine Insight Reports have highlighted consistently good growth for wine lately—a very welcome recovery after difficult trading for the category during COVID-19 and its aftermath. 
In contrast, the spirits category has had a tough 2023, and year-on-year sales were down again last week, by 7%. Spirits had an excellent 2021 and 2022 as drinkers celebrated the post-COVID-19 reopening of pubs and bars, but they have struggled against tough comparatives since. Of the other main categories, beer sales were up 4% last week, while soft drinks and cider were down 2% and 0.5% respectively.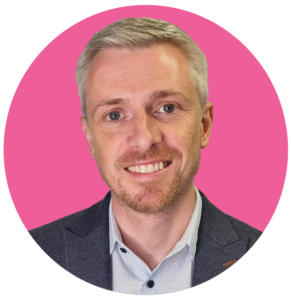 "Almost two months of disappointing summer weather have been bad news for drinks sales, but the more positive impact on food sales has at least sustained wine's impressive revival," says Jonathan Jones, CGA's managing director, UK and Ireland. "This week's heatwave and more good forecasts should make September a better month for pubs and bars, as well as beer and cider suppliers as we move towards the final quarter of the year."
The Daily Drinks Tracker provides analysis of sales at managed licensed premises across Britain, and is part of CGA by NIQ's suite of research services delivering in-depth data on category, supplier and brand rate of sale performance. To learn more, click here and email jonathan.jones@cgastrategy.com.