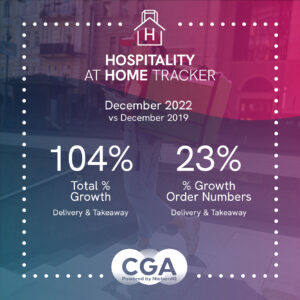 Combined sales in December 2022 were 104% higher than in December 2019, with deliveries up 238% and takeaway and click-and-collect orders 53% ahead.
The figures confirm how lockdowns and the convenience of delivery platforms have transformed the market for restaurants, long after the end of COVID restrictions in Britain. Managed groups received just over 24% of their total sales from deliveries and takeaways in December, the Hospitality at Home Tracker shows. It also highlights the increasing importance of drinks, which now account for 10% of all at-home orders.
However, trading has plateaued since late 2021. The Tracker shows total delivery and takeaway sales in 2022 were 2% behind December 2021—the 14th month of year-on-year decline in a row.
Karl Chessell, CGA's business unit director – hospitality operators and food, EMEA, said: "After booming in 2020 and 2021, it was a year of consolidation for the delivery and takeaway sector. A return to eating out and a squeeze on consumer spending both contributed to the plateauing of sales throughout 2022. Nevertheless, with nearly a quarter of all sales now coming from at-home orders, COVID has cemented food and drink deliveries in people's habits. The big challenge for all restaurant groups in 2023 is to protect sales and margins on third-party delivery platforms without compromising eat-in trade."
The CGA Hospitality at Home Tracker is the leading source of data and insight for the delivery and takeaway market. It provides monthly reports on the value and volume of sales, with year-on-year comparisons and splits between food and drink revenue. It offers a benchmark by which brands can measure their performance, and participants receive detailed data in return for their contributions.
Partners on the Tracker are: Azzurri Group, Big Table Group, BrewDog, Burger King UK, Byron, Cote, Dishoom, Five Guys, Gaucho Grill, Giggling Squid, Honest Burgers, Island Poke, Nando's, Pizza Express, Pizza Hut UK, Prezzo, Rosa's Thai, TGI Fridays UK, The Restaurant Group, Tortilla, Wagamama and YO! Sushi. Anyone interested in joining the Tracker should contact Karen Bantoft at karen.bantoft@cgastrategy.com.