To read the article in Korean, click here.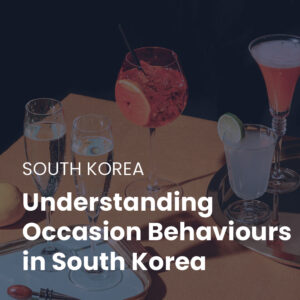 The latest edition of CGA's On Premise User Survey has extensive insights to help businesses understand why, when and where South Koreans are eating and drinking while out of home. It shows that two-thirds of consumers visited bars and restaurants for after-work drinks (68%), live sports events (67%) and casual meals (67%) every week, followed by 59% for relaxed drinks and 53% for high-tempo drinks or a big night out.   
The South Korean On-Premise sector has experienced a noteworthy weekly visitation growth by +11pp vs. last year currently at 43%. This growth can be attributed to an uptick in frequent visits to bars and restaurants, as South Koreans continue to meet up for treats and catch-ups with family and friends (37%). While 20–34-year-olds are driving the live sport (14%), primarily led by football (38%) and baseball (29%), and high-tempo occasions (16%), the older age groups are enjoying celebrating special occasions (38%) (e.g., birthday, anniversary) and business meetings (38%).  
When it comes to specific drink preferences in the On Premise, beer shines with a 64% preference rate for after-work drinks and a 54% preference rate for high-energy drinks and casual meals, followed closely by soju, favoured by 55% for after-work drinks, 47% for high-tempo occasions, and an impressive 58% during business meetings. Wine, on the other hand, takes the lead as the preferred choice for formal, food-centric gatherings, accounting for 37% of such occasions. 
CGA's OPUS service is based on a twice-yearly survey of 4,000 On Premise users in South Korea. The latest edition provides many more insights into occasions, plus extensive breakdowns to identify consumers' category and channel habits. It helps suppliers craft effective sales and activation campaigns and spot opportunities to influence consumers' paths to purchase.
Jaepil Sohn, CGA by NIQ Client Solutions Director, South Korea, said: "Our research shows the consistently high engagement of South Korean consumers with the On Premise, but their occasions are evolving. It's particularly encouraging to see the growth in special occasions and high-tempo drinking visits—both of which can attract high spending and are excellent opportunities for promotional activity. Cultivating success in South Korea's dynamic market requires a deep understanding of consumer behaviours in these occasions and venues. To take full advantage, businesses need an in-depth understanding of people's very latest habits and preferences, and our OPUS service is the ideal foundation for successful strategies."
CGA by NIQ's OPUS service provides expert analysis of engagement with South Korea's On Premise and is the ideal single-source solution for both short-term gains in category and channel share and long-term strategic planning. Click here to know more about occasions to target in South Korea On Premise. To learn more about CGA's services in South Korea, contact Jaepil Sohn at jaepil.sohn@nielseniq.com.