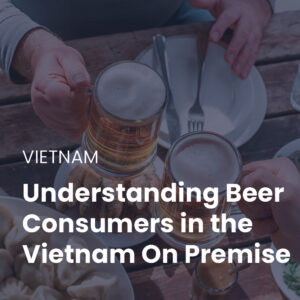 CGA's exclusive On Premise User Survey (OPUS) shows the huge scale of the beer market in the country. Almost three in five (58%) of Vietnam's consumers drink it in bars, restaurants and other venues, and 29% of these choose premium brands. With nearly all of them (96%) very or quite likely to pay more for a better-quality drink, there is significant room for suppliers and venues to secure trade-ups.  
Domestic brands remain the most popular choice of premium beer drinkers in Vietnam. But with nearly two-thirds (63%) of them choosing international beers—17 percentage points more than the total for all beer consumers—there is plenty of headroom for global brands to grow. While only a fifth (21%) currently choose craft, there is potential to embed premium brands in this category as well. 
Understanding beer drinkers' habits and preferences is the first step towards that target—so here are five key OPUS insights to help craft successful strategies: 
1 A young and affluent consumer base 
OPUS shows 46% of Vietnam's premium beer consumers are female and nearly half (49%) are aged from 18 to 34. While 51% of average On Premise visitors in Vietnam are female, 55% of average Beer drinkers are male. The average Premium Beer drinker in Vietnam's On Premise is much more likely than other consumers to live in city centres, and their average household income is 16% higher than the average On Premise user—making them a valuable group to target.  
2 Factors Shaping Drink Choices 
When choosing what to drink out at a venue, 67% of beer consumers prefer high-quality drinks while 49% prefer well-known brands followed by 47% who prefer new and interesting brands. Meanwhile, 42% of beer consumers called brands with good values/ethical practices important when making a drink preference. Additionally, 33% of beer drinkers expressed a proclivity towards international brands, and 30% leaned towards local brands. 
3 Nhà Hàng channel preference 
Vietnam's premium beer drinkers are also much more likely than average to visit nhà hàng (60%) venues, followed by quán ăn (58%), and quán nhậu (54%) channels, which indicates the opportunity to encourage trade-ups alongside food. OPUS data highlights winning opportunities for reputable beer brands, as consumers (36%) confirm brand reputation and high-quality ingredients as crucial aspects in choosing what to drink when visiting nhà hàng. 
4 The importance of menus 
OPUS highlights menus as the most valuable place for venues and suppliers to drive premiumisation. Over a third of beer drinkers say they are influenced by pictures (41%), descriptions (40%) or brand lists (34%) on menus, though recommendations from friends and family (35%) are important too. Compelling menus and in-venue promotions are vital, because three in five (59%) consumers who know what they want to drink before going out have changed their minds after arriving at a venue. 
5 Differences from city to city 
OPUS provides valuable breakdowns of consumer habits by location, revealing key differences in preferences. For example, imported beer is drinkers' top choice in Ho Chi Minh (+7pp), while domestic brands lead in Hanoi (+2pp). There is an opportunity for premiumisation in both cities, but more so in HCMC, as 86% Of HCMC residents are likely to pay extra for a better-quality drink. These variations emphasise the importance of city-by-city consumer intelligence and localised promotions. 
Tony Auvray, CGA by NIQ's associate director, said: "Vietnam has a dynamic On Premise with a growing number of affluent consumers who are willing to spend more on drinks if the quality is right. There is exciting potential for suppliers to grow beer sales, especially at the premium end of the category. But this is also a very diverse market in which preferences vary from place to place and change fast, so it's vital to stay right on top of consumers' habits. For operators, the priority is to find the right balance of premium and value beers, and domestic and international brands."
CGA's OPUS service, based on in-depth surveys of consumers across Vietnam, helps suppliers, manufacturers and operators understand consumers' engagement with the On Premise, including their preferred occasions, channels, categories, brands and much more. To learn more about the research and opportunities for tailored analysis, click here, or email Tony Auvray at tony.auvray@nielseniq.com.