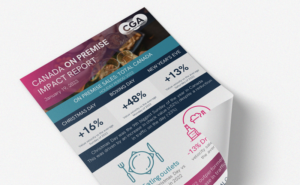 In the past month, Canada's On Premise channel has seen over 4 in 5 consumers visiting the On Premise for a food-led visit, and a third visiting for drink-led occasions. Half of consumers have visited the On Premise in the past week, and over 2 in 5 plan to visit in the next week.
CGA by NIQ's Consumer Pulse Report explored consumers' current and planned behaviours as a result of Health Canada's new drinking guidelines. A significant proportion of consumers are aware of the new drinking guidelines (71%) and are stating it's had no impact and are quite/very unlikely to reduce the number of alcoholic drinks consumed in the On Premise (58%).
Since the announcement, the On Premise has maintained stable visitation levels. The guidelines have not impacted visitation frequency of 67%. In addition to consistent visitation, CGA's recent Sales Impact Report shows velocity levels above both 2022 (+12%) and 2020 (+7%) showing a positive outlook for future visitation.
While a proportion of consumers (22%) state that they will be reducing their alcoholic drink consumption in bars and restaurants, this provides a pathway for non-alcoholic alternatives to cement themselves on menus to support consumer preferences, be it Non-Alcoholic Beer, Spirits, and Mocktails. CGA's January Consumer Impact Report highlights engagement with these different services among those who participated in Dry January.
Brands, suppliers and operators have a heightened opportunity to maximise their non-alcoholic and low-alcohol offerings to ensure there's variety for those consumers looking to visit the On Premise while reducing their alcohol consumption. CGA will continue to explore this category opportunity in detail in the Spring 2023 OPUS survey.
Mitch Stefani, Client Solutions Director – Americas, said "Overall, the guidance has not had a significant impact on consumer On Premise visitation or consumption, while we continue to track consumer sentiment on this topic, it presents suppliers with another opportunity to work with their operators on taking the necessary steps to present effective assortment strategies with On Premise data."
CGA surveyed 1,200 respondents in Ontario, Alberta, British Columbia and Quebec who have visited On Premise venues in the past 3 months.
CGA's Consumer On Premise Impact Report is consumer research refreshed on a monthly cadence tracking current behaviour among On Premise visitors, and exploring how they are engaging with specific trends and new happenings taking place in the channel. To find out more about the full subscription of reports, including analytics, download more information here, and the latest On Premise snapshot can be found here.