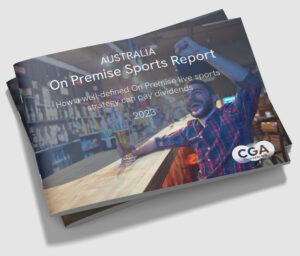 According to CGA's latest consumer data, nearly a fifth (18%) of consumers visit the On Premise to watch sport on tv, with RSL/Sports Clubs and pubs the most popular venues for this past time. The upcoming On Premise Sports Report highlights that the typical consumer who watches live sports in the On Premise tends to be highly engaged with hospitality venues – visiting more often than the average consumer, with both a higher average income and higher spend when out-of-home.
The significant proportion of Australian consumers visiting the On Premise to enjoy live sports also highlights a key opportunity for sports betting and hospitality operator partnerships – with previous CGA research highlighting that 60% of Australian consumers would be more likely to place a bet when watching a sporting event in a pub, bar, or restaurant than if they were watching it home. Almost half of consumers would also stay at a venue for longer if they were taking part in mobile sports betting, and around 3 in 5 consumers state they'd be likely to order more drinks if they were watching a game they'd placed a bet on.
Beer is a clear winner amongst On Premise sports viewers, who tend to be suburban-based and male, with domestic brands typically leading consumption within the category – but stocking a range of beer options will help cater to a larger segment of consumers. There's also a strong case to be made for Spirits and Wine brands – with half of this consumer segment drinking these categories in hospitality venues. Within Wine, sports viewers are seeking both value and quality, with these consumers more likely to purchase by the bottle rather than by the glass when it comes to serve.
Within the Spirits mega-category, there's interest across the board, with particular focus on Whisk(e)y and Gin, with On Premise sports viewers drinking these categories more frequently year-on-year. While bar recommendations and visibility on bar shelves can help drive Gin brand sales, Whisk(e)y drinkers are looking for value and discounts – which could prove a key opportunity to promote Whisk(e)y RTDs, particularly during the warmer months.
James Phillips, Client Solutions Director – ANZ, said: "The start of the 2023 AFL & NRL seasons is a key time for suppliers and operators to assess their sport occasion strategy, and identify which events are key for activations. The AFL Grand Final, in late September, is the most popular large event consumers plan to visit hospitality venues for – demonstrating that keeping the On Premise live sports viewer engaged throughout the season will be key for venues showing live sports who are looking to drive higher levels of footfall. For drinks suppliers, maintaining advertising with a sporting theme will ensure consumers will recall your brand at key decision-making points during sports occasions."
CGA by NIQ's upcoming On Premise Sports Report delves into the typical On Premise live sports viewer, reinforcing why suppliers and operators should be targeting activity around sporting occasions, helping to identify the key sporting events to activate around, and how a well-defined live sport occasion strategy can pay dividends. For more information on the On Premise Sports Report, email James Phillips at james.phillips@cgastrategy.com