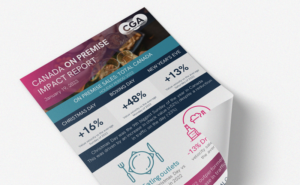 In the past month, 4 in 5 consumers have visited the On Premise for a food-led occasion, with just under a third visiting for a drink-led occasion. Half of consumers had visited the On Premise in the past week, and visitation is set to remain steady, with a similar proportion planning to visit over the next week. 
CGA by NIQ's Consumer Pulse Report found that over half (51%) of consumers tried new bars and restaurants at the start of 2023. Looking into exactly what factors influenced these visits, recommendations from friends, family and colleagues (55%) were the most popular influence, followed by consumers actively seeking out information from all available sources (27%), and a quarter of consumers finding out about new places through friends' recommendations on social media.  
Whilst consumers were visiting new venues, the interest in experimenting was also seen in their drinks choice over January -14% of consumers purchasing brands they haven't tried before. Reasons for choosing only new brands were 'for a treat' (33%), closely followed by 'wanting to experiment with new brands' (32%), and again 'recommendations' (26%) showed importance in influencing consumers.  
Over the month, consumers taking part in Dry January chose to drink a variety of non-alcoholic beverages; predominantly mocktails (31%), non-alcoholic spirits (24%), and non-alcoholic Beer (22%), with a proportion of these consumers showing interest in drinking these categories beyond Dry January. Consumers stated they're likely to continue drinking Mocktails (7%) presenting opportunities for suppliers to further widen their drinks offerings and to tap into consumers opting for non-alcoholic beverages.  
After the recent announcement from the Canadian Government regarding new health restrictions that Canadian's have been advised to drink no more than two drinks a week, CGA are tracking the impact the announcement has on consumer behaviour and the findings will be in the next Consumer Impact Report.  
Mitch Stefani, Client Solutions Director – North America, said: "The year started off strong with consumers showing interest in experimenting with both different venues and drink choices, and the report reveals the importance in understanding the factors which are influencing consumer behaviours. Brands, suppliers and operators should be considering how they can tap into multiple avenues of opportunities such as in-venue marketing and social media to drive interest and overall visitation"     
CGA surveyed 1,200 respondents in Ontario, Alberta, British Columbia and Quebec who have visited On Premise venues in the past 3 months. 
CGA's Consumer On Premise Impact Report is  consumer research refreshed on a monthly cadence tracking current behaviour among On Premise visitors, and exploring how they are engaging with specific trends and new happenings taking place in the channel To find out more about the full subscription of reports, download more information here and the latest On Premise Impact Report snapshot can be found here. 
For more information and support please contact Mitch Stefani at mitch.stefani@cgastrategy.com