Click here to read the blog in Italian/ Clicca qui per leggere il blog in italiano.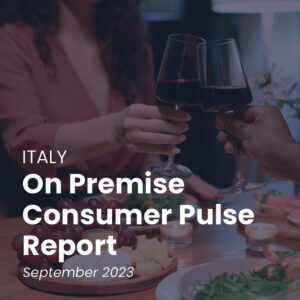 The monthly survey of consumers across Italy shows a drop in the number who have been out to drink in the last month—from 56% in August to 51% in September. The number who have eaten out has increased slightly, from 85% to 87%. 
There are also signs that consumers are reducing the frequency of their visits. Around three in ten (28%) have been to bars, restaurants and similar venues at least three times a week over the last month—six percentage points fewer than a month ago. Nearly a third (32%) have gone out only once or twice a month—up by six percentage points—while a similar number (31%) say they are going out less often than usual. Of these, well over half say it is because of cost of living increases (57%) or menu price rises (53%). 
However, a loyal core segment of consumers is still spending heavily in the On Premise, and younger adults are particularly engaged. More than a third (37%) of 16- to 34-year-olds say they are going out more often than usual, compared to only 25% of those aged 55+. Moreover, those in Generation Z are 15 percentage points more likely than average to plan extra visits to bars and restaurants over the next month, making it imperative for brands to develop a thorough understanding of this vital segment to mitigate the risk of losing consumers and spending from other segments who may be reducing their visits. 
The top category choice for these more frequent users is beer. This has been bought by exactly half (50%) of those who have visited bars and restaurants in the last month—up by one percentage point from August, and ahead of aperitifs (46%) and wine (34%), which have each lost a percentage point. Smart positioning of beer and other popular categories for Generation Z can help brands sustain spending through the general downward trend in visits. 
Daniela Cardaciotto, CGA by NIQ's senior sales consultant, said: "The cost of living crisis is clearly affecting consumers' visits to the On Premise, but Italy's On Premise remains vibrant. Brands that can pinpoint their core customers and understand exactly what they want—especially within the crucial Generation Z—can still achieve excellent growth despite the tough economic times. With people closely watching their spending, value is going to be vital in the months ahead."
You can download the September Italy On Premise Consumer Pulse Report for free here.
CGA by NIQ's Consumer Pulse survey delivers many more vital insights into consumers' behaviour in Italy's bars and restaurants. It provides the up-to-the-minute intelligence that all businesses need to thrive in the market, and bespoke analysis is available for even deeper analysis. To learn more, email Daniela Cardaciotto at daniela.cardaciotto@nielseniq.com.