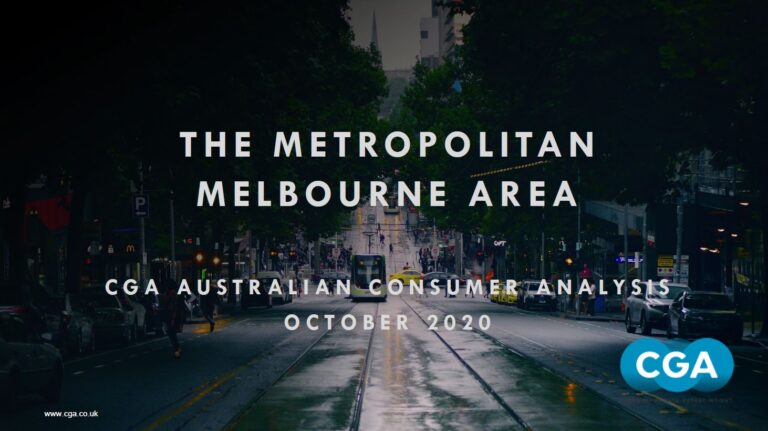 Consumers in the Melbourne metropolitan area in Australia are eager to return to eating and drinking out, but anxiety over safety is likely to trigger significant short-term changes in their habits.
Those are among a wide range of insights in new consumer research from leading out-of-home consultancy CGA, published as the on-premise in the Australian city emerges from more than 100 days of lockdown on Wednesday (28 October), which highlight the impact of long-term restrictions on the inhabitants of major cities.
CGA's survey found that well over half (59%) of consumers now plan to eat out more than or as same as they did before lockdown, and that they are likely to return faster to cafes and coffee shops than pubs, bars and restaurants. Nearly two thirds (64%) say they will be going back to cafes and coffee shops in the first few weeks of reopening—much higher than the numbers who plan to return to restaurants (47%), pubs (41%) and bars (39%).
But as reopening neared, the research identified widespread concerns about safety, with only half (48%) of consumers saying they feel very or quite confident about returning—15% lower than the figure for the rest of Australia (63%).
After so long in lockdown, it's understandable that many Melbourne consumers are now anxious about returning to pubs, bars and restaurants. The big challenge for operators is to demonstrate to their guests that they can have a safe as well as enjoyable time when they go out to eat and drink—and suppliers have a key support role to play," says CGA commercial director Graeme Loudon.
CGA's research is intended to help operators and suppliers with their planning as they try to encourage consumers to return to venues. It reveals that health and safety motivations will lead many people to eat and drink out close to home, rather than travelling into and across central Melbourne. More than half (54%) of consumers agree they will be visiting more local venues than they did before lockdown.
The research spotlights many more preferences and changes in consumer habits, including:
Rising take-up of food and drink delivery. Three quarters (78%) of consumers in the area say they ordered deliveries from restaurants, pubs or bars during lockdown—12 percentage points higher than the rest of Australia
An increased desire to plan and book. Two thirds (67%) of consumers in Metropolitan Melbourne say they will plan more thoroughly before going out than before, and nearly as many (64%) say they are likely to pre-book
Widespread intentions to avoid crowded venues and dayparts. Nearly two thirds (62%) of consumers say they plan to avoid peak times for pubs, bars and restaurants when outlets reopen
A demand for high quality drinks and a tailored offer. Biased towards a younger consumer base, those in Metropolitan Melbourne are more likely than average to seek out better quality drinks offers and choose spirits in the on- premise, as well as transferring drink choices from on-premise to off-premise.
Lockdown aftermaths in cities around the world have consistently revealed new normals of consumer behaviour. From staying local to planning to spreading visits across the day, operators and suppliers can expect to see some important changes in habits, and they will need to stay right on top of the evolving needs of guests. Melbourne is a valuable market of engaged, knowledgeable and discerning consumers, and operators and suppliers will need to optimise food and drink offers and ranges for changed occasions and fresh priorities," says Graeme Loudon.
CGA's 'Consumer Pulse' research gathered views from 500 Australian consumers in October 2020. As the on-premise continues to reopen across Australia, CGA is preparing further research to support suppliers as they strategically navigate the ongoing recovery phase. For more details, email CGA commercial director Graeme Loudon at graeme.loudon@cga.co.uk or download the report here.