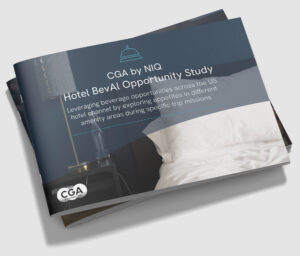 With 3 in 5 US On Premise visitors planning to travel domestically in the next 3 months, this is a crucial time for drinks suppliers to prepare for hotel operators reviewing the portfolio of drinks offering, of both assortment and format to meet the needs of the different consumer priorities and visit types. Hotel operators are and continue to lean into suppliers for support and insights to ensure they are doing this as effectively as possible. 
The Hotel BevAl Opportunity Study will conduct a deep dive into hotel visitation over the next 12 months, how consumers want to engage and will use the hotels channel and it will highlight consumers' wants and needs regarding beverage offerings in hotels. Capturing visitation from over 55 leading hotel brands, this study will be able to explore banner-specific insights enabling collaboration with specific chains to shape beverage strategies and enable hotel chain specific RFPs to be built. 
Through exploring consumers' plans for travel over the next 12 months and how this compares to the previous year, the study will provide essential insights into consumer planned behaviour over the 2023 travel season. Find out what consumers want from the beverage offering by exploring the various touch points within hotels; including rooftop bars, restaurants, pool bars, and understand how different visitors interact with different occasions in the hotel channel. 
Matt Crompton, Regional Director – North America said "The Hotel BevAl Opportunity Study is incredibly important for brands, suppliers and drinks manufacturers looking to make a mark in the Hotel channel. Approaching hotel partners with data-driven and actionable insights into consumer behaviour, showing a deep understanding of their wants and needs within the channel with the ability to make bespoke recommendations, will set you apart from key competitors and open the door for opportunities throughout 2023 and beyond."
CGA by NIQ's 2023 Hotels BevAl opportunity study will explore in detail the implications of domestic travel for beverage companies and provides drinks brands with a wealth of insights, to identify opportunities within the hotels channel and enable hotel chain specific RFPs to be built.  
CGA's 'Hotel Bev Al Opportunity Study' is based on a survey of 5,000 visitors to a range of hotel types including around 55 leading hotel banners, allowing suppliers to directly speak to their customers' customer base when making crucial decisions to support their beverage programming. Download more information about the report here.  
For more information on CGA's 2023 Hotels BevAl Opportunity Study and consumer research solutions, please contact Matthew Crompton at Matthew.Crompton@cgastrategy.com