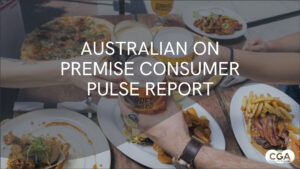 Supplying products that deliver on consumer needs cannot be underestimated, with a significant 77% of consumers taking sustainability and ethical credentials into account when perusing the menu. Yet, 73% agree that both operators and suppliers could be doing more to help combat the negative impact their business has on the environment and the community, making innovations and messaging key focus areas.
Food is an important aspect – over half (52%) decide what food to order based on sustainability and ethical credentials. This also affects the choice of venue for 46% of consumers and drinks choice for 2 in 5 consumers.
Interestingly, consumers check for information around sustainability when eating and drinking, with 17% of consumers always checking, 23% checking most of the time and 20% checking sometimes, compared to 15% who only check occasionally and 25% who never check.
The sustainability factors consumers are considering when choosing what food or drinks to order, and at what venue, are locally sourced and produced food and drinks (42%) as the most prominent concern, followed by reduced waste (31%), recycled packaging (26%), and eco-friendly packaging (25%).
The report highlights the fact that consumers feel venues and suppliers should be showing greater concern towards environmental factors. Packaging of products was important with over half (56%) of consumers saying reduced waste should be considered, followed by almost half in favour of recyclable or reusable materials. 40% of consumers are wanting to see greater use of eco-friendly packaging.
Overall, the report indicates overwhelming signs that sustainable and ethical values will continue to play an increasing role in consumer choices regarding the bars, restaurants and pubs they visit, and what they order when on-site. Making information around current initiatives more accessible, and hard for consumers to ignore will help build those positive brand credentials and sentiment.
James Phillips, Client Solutions Director – APAC said: "Sustainability continues to be a front-of-mind topic influencing consumer interactions with the On Premise. With consumers proactively seeking out information to help inform their choices, it's a golden opportunity for operators and suppliers to consider their sustainability strategy. All businesses have the opportunity, responsibility and means to play a significant role in combating climate change that can benefit their consumer, their profits and the planet. Drinks suppliers and operators in Australia are no different and can create this win-win-win scenario."
CGA by NIQ's Australia Consumer Pulse Report delves into consumer research, and key metrics in the On Premise to explore hot topics as they arise. In addition, look out for PULSE+ coming soon, CGA's updated reports covering both consumer and NEW Sales metrics.
Download the latest Australia Consumer Pulse Report here.
To learn more about CGA by NIQ's consumer research and market measurement services across both Australia and New Zealand, please contact James Phillips at james.phillips@nielseniq.com