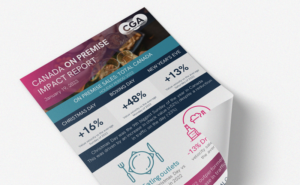 Whilst we've seen positive visitation in the Canadian On Premise, it's now more than ever, important to understand external factors that drive consumers drink choices and the increasing number of touchpoints on the path to purchase.
The report found that almost 4 in 10 consumers have already decided what they will drink before visiting a venue, potentially linking to another finding from the report; how consumers are inclined to check the venue's food and drinks menus and social media presence before a venue visit. Venues having a strong online presence is crucial and ensuring there's a well thought out digital marketing strategy to effectively capture consumers' attention, will contribute to shaping consumers preferences before they visit a venue.
There's considerable loyalty when it comes to drinks/brand choices, as almost 70% of consumers stuck to the exact same drink during their last visit to the On Premise, whereas 20% drank the same category but switched to different brands – on average drinking around 2.5 different brands. Underlining how brands, suppliers and operators should understand the various factors that can influence the decisions of consumers loyal to a particular drink, and to those willing to switch brands during their visit. Utilising pre-visit touchpoints and in-venue activations are ways to catch the eye of receptive consumers.
Mitch Stefani, Client Solutions Director, said, "As assortments become available to the consumer, understanding the consumer path to purchase is paramount for suppliers and operators in the beverage industry. Having online visibility, that's consistent with in-venue activations and promotions, will unlock opportunities for suppliers to effectively shape consumers preferences".
CGA's On Premise Consumer Impact Report tracks current behaviour among On Premise visitors, and the latest OPUS (On Premise User Survey) provides key insights into the consumers path to purchase, and explores in detail, in-venue influences when it comes to drinks and brands choice and how this translates to Off Premise purchasing. 
To find out more about the full subscription of On Premise Impact Reports, including analytics, download more information here, or get in touch with Mitch Stefani to find out more about OPUS at Mitch.x.Stefani@nielseniq.com .