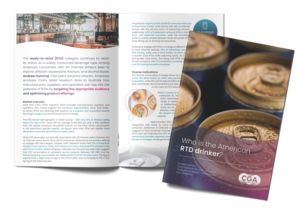 The RTD drinker demographic is rather young – with only 16% of drinkers being above the age of 55 – and, with an average of $83,000 per year, a little wealthier than the regular American household income. On the other hand, consumption is not particularly gender-specific, as figures show that RTDs are just slightly more attractive to females (52%) than to males (48%).
While RTD beverages are typically associated with Off Premise sales channels, the On Premise sector serves as a critical avenue for adventurous consumers seeking to engage with the category. Indeed, CGA's research shows that 17% of American drinkers who visit bars, pubs, and restaurants have consumed RTD alcohol in the past three months.
RTD alcohol consumption is largely driven by convenience: over one third of users select the drink based on what they perceive to be a good value for money proposition, while 25% look for special offers and discounts. Over a quarter of people also trust friends' recommendations, but less – one out of five – rely on the bar staff or the menu for RTD advice.
When it comes to selecting an RTD, people are primarily motivated by the variety of flavours offered (28%), which reiterates the importance of having a diverse range of options available to satisfy a broad range of preferences. Health considerations, on the other hand, do not appear to play a key role in consumer decision-making. While 20% of individuals may look at the alcohol content, only a minority is concerned with calories.
Andrew Hummel, Client Solutions Director, Americas, said: "As the popularity of RTDs shows no signs of abating. Insights drawn from CGA's OPUS research illustrate how manufacturers, suppliers and operators can tap into the potential of RTDs by targeting the appropriate audience and optimizing product offerings – fully harness the category's potential across the American On Premise."
Read more information from the report, free to download here.
CGA's OPUS research provides a rich resource of data and insights that helps manufacturers, suppliers and operators answer category, channel, occasion, and brand questions, and optimise sales and marketing strategies across the US' On Premise industry. Meanwhile, BeverageTrak data combines powerful datasets to provide an ultra-granular view of how drinks categories are being ordered and distributed across the US.
To learn more about the RTD category, and CGA's capabilities across the On Premise, visit www.cgastrategy.com and email andrew.hummel@nielseniq.com
Originally published in Global Drinks Intel Magazine