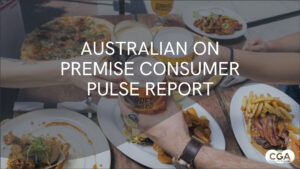 The number of consumers visiting the On Premise has gone up since last month, with a slight increase in the number of consumers visiting for food-led visits and a decrease in consumers visiting for drink-led visits.
Over half of consumers who are going out more frequently than usual are mainly doing so to treat themselves. Similar trends look set to continue during the coming month, with 9 out of 10 planning food-led visits, and just over half of consumers planning to go out for a drink only.
Seasonality has proven to impact consumer behaviour within the On Premise, with over half of all Australian consumers switching their visitation habits based on the time of year. For example, hot drinks are consumed more frequently by 37% of consumers during the winter, and 42% of consumers are more likely to experiment with cocktails. This presents a window of opportunity for suppliers and operators to join forces to promote winter-themed and hot cocktails on their drink's menus, to cater for those looking to mix-up their drinks choice during the winter months.
The report also explored the types of channels popular with consumers during the season, with casual dining restaurants and pubs being visited more often during the winter, and casual meals being the most frequented occasion type, emphasising the value of this relaxed occasion.
The On Premise provides a volume opportunity for festival and event attendees, with over half of consumers visiting or planning to visit a hospitality venue for these occasions, with the top occasions in June being The State of Origin series (24%), The Kings birthday long weekend (24%) and Vivid Sydney (19%) Once more, suppliers and operators can work together to provide drinks ranges that align with and enhance the experiences of these occasions.
James Phillips, Client Solutions Director – ANZ said: "It's easy to think summer is the season where the On Premise thrives, but our report shows how the winter season holds huge potential for brands, suppliers, and operators looking to capitalise on offerings that aren't as popular in the summertime. Understanding the changing seasonal nuances is the key to year-round On Premise success. CGA's On Premise User Study (OPUS), can help maximise On Premise potential by providing channel, occasion type, and category insights to help you build a winning wintertime On Premise strategy."
CGA by NIQ's Australia Consumer Pulse Report delves into consumer research, and key metrics in the On Premise to explore hot topics as they arise. In addition, look out for PULSE+ coming soon, CGA's updated reports covering both consumer and NEW Sales metrics.
If you're interested in uncovering On Premise channel, occasion and category specific data and insights using CGA by NIQ's OPUS (On Premise User Survey), get in touch with James Phillips for more information – James.Phillips@nielseniq.com.