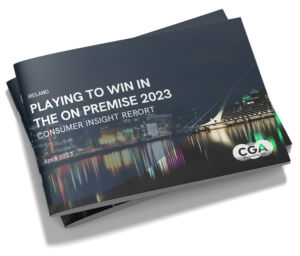 According to CGA by NIQ's '2023 Consumer Insights Report', two in three adults now say it's important that the food and drink they buy are produced by sustainable and ethical businesses.
This highlights the need for On Premise brands to showcase their environmental credentials—plus the risk of getting things wrong. Four in five (81%) of Ireland's consumers say they would be concerned if they found their favourite brands were not produced sustainably, and a third would purchase them less or stop completely.
Businesses are under mounting pressure to communicate their stance on issues like food and water waste, the use of plastic and contamination. Menus, social media and TV advertising are the three top ways in which consumers would like to learn about brands' efforts on these and other fronts.
CGA's research shows there are good commercial reasons to act on sustainability, as well as ethical ones. More than nine in ten (94%) consumers say they are willing to pay more for a product that is sustainable, by an average of 29% more than usual.
"Ireland's consumers are more sharply focused on sustainability than ever before—not just in their own lives but in the brands that they use," says Sian Brennan, CGA's client director, Ireland. "Good practice can improve people's trust in businesses and encourage them to spend more. But guests are increasingly demanding about environmental commitments and wary about greenwashing. They want brands to act and shows users about what they are doing—and if they don't see enough commitment then some will go elsewhere. It's vital that all businesses understand their attitudes and priorities on this complex issue, and prove they take them seriously."
CGA by NIQ's Consumer Insights Report delivers many more actionable findings about consumers' engagement with environmental issues in Ireland's On Premise. It can help businesses build powerful and persuasive sustainability strategies that demonstrate good environmental practice and generate incremental sales. To learn more, email Sian Brennan at sian.brennan@cgastrategy.com.