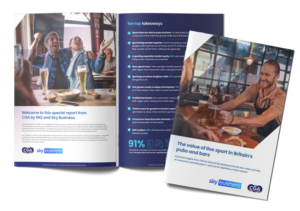 Showing live sport in venues is a compelling opportunity to not only score highly in terms of winning sales, but also to encourage repeat visitation and promote brand equity. This is clearly demonstrated by more than two thirds (68%) of operators surveyed confirming revenue increases as a direct result of showing live sport. Almost half (49%) say showing live games increases customer satisfaction, 41% experience increased spend per head, and 44% think live sport entices consumers to stay for longer than usual.
In addition, 9 out of 10 landlords, managers and owners say customers who watch live games in their venues are also visiting for non-sporting occasions, reflecting a broader positive impact on both sales and frequency of visitation.
But despite the many and varied benefits of showing live sports, the potential around live women's sports remains largely untapped. Yet there's a clearly increasing appetite amongst operators and consumers alike, since the Lionesses clawed in supersized audiences during their historic winning performance at the 2022 Euros tournament.
As a result, more than half (58%) of landlords, managers and owners are keen to leverage live women's sport, in order to attract more female and family-oriented consumer bases. For this purpose, 48% of bars and pubs are planning to put their intentions in to practice over the next few months.
That said, the timings of the FIFA Women's World Cup aren't ideal for pulling in the crowds. Due to the matches being played in Australia and New Zealand, they are usually taking place very early in the morning for UK viewers. So, if pubs and bars open their doors early for the occasion, promote their offers, and provide the right environments, the tournament could help to fill seats in early trading periods that would otherwise be quiet or even closed.
Andy Dean, CGA by NIQ's client director, said: "Investment in screening live sport represents a compelling trading advantage to help mitigate other rising cost that are continuing to impact the hospitality industry. So, it's vital for pub landlords, managers and owners to understand how showing live sports can pay backs in spending, loyalty and reputation. What's more, the pull of live sport attracts consumers to pubs and bars at times they wouldn't normally visit. In fact, a substantial number of consumers say they're more likely to visit at times or on days when they otherwise wouldn't. This clearly evidences how live sport delivers incremental spend at off peak times, rather than taking it away from other dayparts."
The Value of live sports in Britain's pubs and bars Report from CGA by NIQ and Sky Business brings together insights into engagement with live sport in Britain's licensed premises, highlighting the significant benefits for both venues and suppliers. Click here to download more information, or get in touch with CGA client director Andy Dean at andy.dean@nielseniq.com.