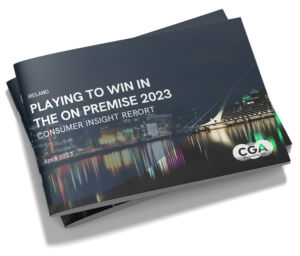 Data from CGA's exclusive 'Consumer Insights Report 2023' reveals that four in five consumers in Ireland plan to go on holiday this year—and a third plan to take a staycation. And with 16% planning to spend more than usual on domestic holidays, there will be chances to capitalise on consumers' desire to treat themselves.  
The research shows how the On Premise is at the heart of people's staycations. More than half of those planning a staycation say they go out to drink every day or most days while on holiday. Despite pressure on consumers' spending, trips to pubs and bars remain an integral part of holidays, and two thirds say they would prioritise spending on eating and drinking out while away.  
There are some particularly good opportunities for suppliers to encourage trial and brand loyalty via activations, with holidays the most popular occasions for consumers to try new drinks. Staycationers are also more likely to choose more premium food and drinks, so there is scope for venues to achieve trade-ups. 
CGA's 'Consumer Insights Report 2023' provides in-depth intelligence about staycation consumers' demographics and preferences. It highlights the engaged nature of these consumers, with three in five going out at least weekly, and shows they over-index for city breaks—which opens up potential for cosmopolitan pubs and bars in particular. 
Sian Brennan, client director – Ireland said: "Staycations always bring a boost for the On Premise, but with many consumers seeking to save money by holidaying at home they will be even more important this year. Staycationers are ready to spend, and the holiday season is the perfect time to capture their interest and establish purchasing patterns that benefit brands all year round. Competition for their spend will be fierce, so it will be vital to understand and respond to these consumers' demands and priorities this summer."
CGA's 'Consumer Insights Report 2023' delivers extensive and actionable insights into people's engagement with the On Premise, with analysis of preferences in categories, channels, occasions and much more. Click here to download more information, or get in touch with Sian Brennan – sian.brennan@nielseniq.com