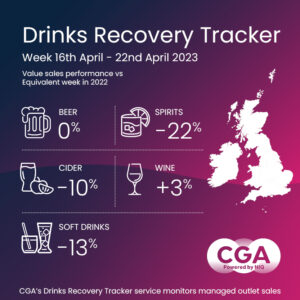 CGA by NIQ's Drinks Recovery Tracker has shown an 18% increase in the first week of April, followed by drops of 3% and 7% in the next two weeks. Comparisons are skewed by the way Easter dates fell in the calendar in 2022 and 2023, but the three-week comparison provides the most accurate picture of trading over the period.  
The 7% growth shows consumers remain eager to drink out in the On Premise. However, with inflation as measured by the Consumers Prices Index continuing to top 10%, year-on-year sales remained slightly down in real terms over Easter. 
In the latest week, sales on Sunday and Monday suffered from comparisons to the key Easter dates in 2022, but they recovered to track 6% ahead on Wednesday, Thursday and Friday (19 to 21 April)—before dipping 1% on Saturday (22 April) amid wetter weather.  
Wine sales were up by 3% last week, continuing a welcome revival of the category which had a difficult 2022 as the On Premise emerged from COVID-19. Beer sales were flat while cider and soft drinks were down 10% and 13% respectively. The spirits category continues to suffer from tough 2022 comparisons, with sales running 22% behind.  
"Considering all the pressure on consumers' disposable income, the solid performance over the Easter period is encouraging, and shows that they are prioritising the On Premise over other discretionary spend" says Jonathan Jones, CGA's managing director, UK and Ireland. "With the next five weeks containing three bank holidays we can expect further positive performance, especially if the weekends are accompanied by warmer weather."
CGA's Drinks Recovery Tracker monitors managed outlet sales of the drinking-out market, providing category, supplier and brand rate of sale performance. Suppliers and operators that want to track the recovery of drinks sales, benchmark performance or identify changes in trends and consumer preferences should contact jonathan.jones@cgastrategy.com.