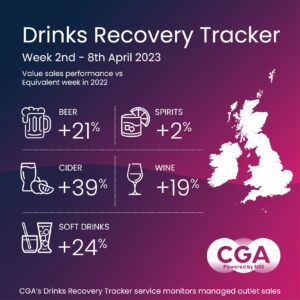 CGA by NIQ's latest Drinks Recovery Tracker shows that average sales in managed venues were up by 18% across the seven days to Saturday (8 April) from the same week in 2022. However, comparisons were skewed by the early Easter in this year's calendar, and figures are likely to even out over the next few weeks.
Sales growth reached +52% and +28% on Thursday and Good Friday (6 and 7 April), which marked the beginning of the long Easter weekend. The start of school holidays and bright weather earlier in the week also propelled sales, with growth of 34% and 30% on Monday and Tuesday (3 and 4 April). However, sales dipped 3% year-on-year on Saturday (8 April), as some consumers spread out their occasions over the long weekend.  
As was the case in the last week of March, the good weather powered strong growth in the cider (up 39%), beer (up 21%) and soft drinks (up 24%) categories. Wine sales rose 19%, but spirits could only scrape an uplift of 2% against tough comparatives from March 2022.  
"These figures indicate some solid trading over the first half of the Easter holidays, but with the very important caveat that comparisons are affected by the way key dates fall," says Jonathan Jones, CGA's managing director, UK and Ireland. "Damp weather will have made trading conditions tougher this week, and consistent, real-terms sales growth more challenging. April and May are big months of the year for the On Premise, and operators and suppliers will hope for the topsy-turvy conditions to settle into warm weather to bring people out to drink."
CGA's Drinks Recovery Tracker monitors managed outlet sales of the drinking-out market, providing category, supplier and brand rate of sale performance. Suppliers and operators that want to track the recovery of drinks sales, benchmark performance or identify changes in trends and consumer preferences should contact jonathan.jones@cgastrategy.com.