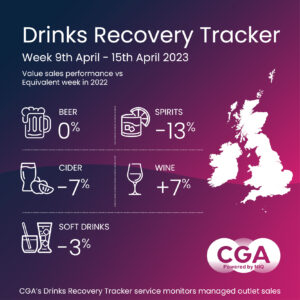 CGA by NIQ's latest Drinks Recovery Tracker indicates that average sales in managed venues were down by 3% in the seven days to Saturday (15 April) from the same week in 2022. However, the equivalent period coincided with last year's Easter weekend, skewing the comparisons. 
The 2023 week's data included Easter Sunday and Easter Monday (9 and 10 April), when drinks sales were 30% and 36% ahead on the same comparative days in 2022. Sales were then down by double-digits on each of the next four days, before ending the week on a high with 9% growth on Saturday. 
Category-wise, sales of spirits were 13% behind the same week in 2022—continuing several difficult months of year-on-year comparisons. The beer (down 0.3%), cider (down 7%) and soft drinks (down 3%) categories were also in the red, but wine (up 7%) extended a strong start to the year.  
"Year on year sales comparisons are tricky at this time of year because of the variance in where Easter dates fall in the calendar," says Jonathan Jones, CGA's managing director, UK and Ireland. "But it's great to see that consumers have chosen to take advantage of the time off work by spending it in the On Premise. Late April and early May will give us a clearer picture of the state of play, but we can be positive overall about the short-term trends and sales should get a lift next month from the extra bank holiday for the King's coronation."
CGA's Drinks Recovery Tracker monitors managed outlet sales of the drinking-out market, providing category, supplier and brand rate of sale performance. Suppliers and operators that want to track the recovery of drinks sales, benchmark performance or identify changes in trends and consumer preferences should contact jonathan.jones@cgastrategy.com.