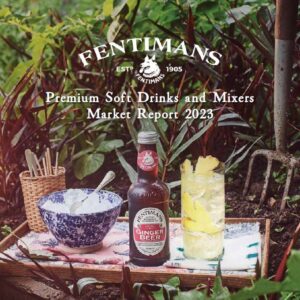 CGA's Drinks Recovery Tracker has shown double-digit year-on-year sales growth in soft drinks across the first three weeks of January. Despite pressure on consumer spending, the 2023 Fentimans Premium Soft Drinks and Mixers Market Report shows the category is set to increase its value from the £4.4bn recorded in 2022. As it grows, here are five key trends to track.
1 More premiumisation
The premium soft drinks and mixers market was worth £445m in 2022—10% of total soft drinks and mixers sales. With many consumers now buying fewer drinks on nights out, but opting for high quality ones when they do so, the premium category is likely to grow again in 2023. Analysis for CGA and Fentimans' report reveals the target demographics for premium drinks—especially women and suburban residents, who both over-index for purchases. They will be looking in particular for brands that can prove their quality through provenance and heritage as well as taste.
2 Opportunities in delivery
Delivery platforms have transformed the food sector during the COVID-19 crisis, and they could start to do the same for drinks. CGA's Hospitality at Home Tracker shows around 25 pence in every pound spent with managed restaurant groups now goes on takeaways and deliveries, and while drinks only account for 10% of that cash, there is plenty of scope to increase share. Premium brands that meet the demand for both quality and value can grow sales if they can persuade consumers that drinks should be part of their delivery orders.
3 Experience-led occasions
Immersive and competitive socialising venues are soaring in popularity, and Fentimans consumers are particularly engaged with sites like games rooms. Many of these consumers are looking for premium drinks brands that complement the quality and specialness of their experiences, and matching range to the unique set of demands in this dynamic segment of the market is crucial.
4 Healthy and sustainable lifestyles
COVID-19 has sharpened people's focus on health, with important implications for soft drinks. More than two thirds (70%) of consumers now try to lead a healthy lifestyle, and there is growing interest in both no or low alcohol brands and soft drinks with health benefits like boosting energy, improving digestion and aiding relaxation. There has been a similar surge in interest in the health of the planet, which means consumers are looking carefully at the sustainability aspects of the brands they buy.
5 Citrus, herb and flower flavours
Fentimans' market knowledge highlights three emerging trends in the taste profiles of soft drinks and mixers in 2023. Citrus fruits like lime, lemon, grapefruit and yuzu play well to the demand for health benefits, while interest in aromas will increase the appeal of herbs like basil, rosemary, lemongrass and ginseng. Floral notes that improve perceptions of quality—like cherry blossom, lavender, jasmine and hibiscus—are likely to feature prominently as well.
The 2023 Fentimans Premium Soft Drinks and Mixers Market Report provides many more insights into these key sectors of the On Premise. It combines CGA's extensive market data with Fentimans' experience to analyse the big market trends that will affect soft drinks and mixers in 2023, including the cost of living crisis, changing consumer habits and technology. Click here to download the full report for free.