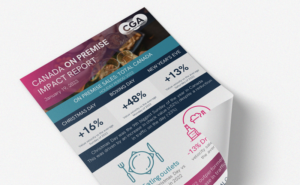 Nearly 2 in 5 consumers plan on visiting Bars, Restaurants, or similar venues for Valentine's Day. Looking at the individual provinces across Canada, Quebec consumers are significantly more likely to visit the On Premise versus the average Canadian consumer with 45% planning to visit to celebrate the occasion.   
Consumers are more inclined to spend Valentine's Day in food-led venues, with Fine Dining Restaurants (39%), Independently owned restaurants (30%), and Casual Dining Chains proving more popular than Hotel Bars/Restaurants & Neighbourhood Bars, with both sitting at 23%. 
Across the most popular BevAl categories for the occasion, Wine comes out on top, with 3 in 5 consumers in Canada planning to order this option, split across Table Wine, and Sparkling Wine/Champagne. This puts the category well ahead of the second and third place options of Beer (29%) and Cocktails (22%).  
When exploring the times Canadian consumers plan to visit the On Premise during for Valentine's day, the early evening daypart (5pm-8pm) is significantly popular. However, consumers are also planning on celebrating the occasion over lunch, with this proving the second most popular daypart (23%).  
Mitch Stefani – CGA by NielsenIQ's Client Solutions Director – Americas said – " It's clear that Valentine's Day is expected to be driven by the food-led occasion, with Wine being the beverage alcohol category of choice when celebrating. The holiday brings operators opportunity for increased visitation and higher check values to build on what would be typical Tuesday of business."
CGA's Consumer On Premise Impact Report is a consumer research report tracking and reflecting on how consumers currently feel about the On Premise, and how the sector can position its offering to increase visitation. The latest On Premise Impact Report snapshot, along with other special reports issued over the past several weeks, can be found here. 
For more information and support please contact Mitch Stefani at mitch.stefani@cgastrategy.com