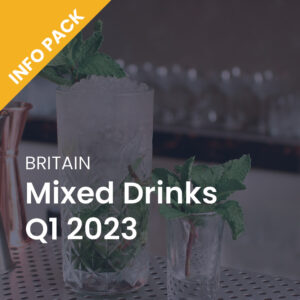 Those are among the messages in CGA by NIQ's 'Mixed Drinks Q1 2023' report, which draws on extensive consumer research to provide an expert overview of the cocktail market. It offers exclusive insights into the habits and preferences of mixed drinks consumers, delivering the intelligence that is needed to get ahead in an ultra-competitive market. 
The report highlights the scale of the mixed drinks market in 2023, with sales worth £716m in the last 12 months. Around 8.3 million consumers now typically drink cocktails in pubs, bars, restaurants and other licensed premises, and a third do so on a weekly basis. Some 44,000 venues now stock them—an indication of the size of the prize for suppliers, but also of the fierce competition for sales now.  
However, sales and the frequency of consumption has decreased in the last year in the wake of soaring household bills. CGA's report shows how price is an increasingly important barrier for consumers, which makes it crucial for suppliers to get activations and promotional strategies right. Nine in ten cocktail consumers say they use promotions to some extent now. 
Despite the pressure on their spending, consumers value high quality drinks and experiences even more than they did last year, the report shows. It also emphasises the value to suppliers and operators of cocktail drinkers, whose average household income is £3,000 more than the all-consumer average.  
Consumers enjoy their mixed drinks as much as ever, but it's clear that the cost of living crisis is denting their ability to spend," says Matthew Meek, CGA senior client manager. "Money is at the front and centre of many people's minds, so it's vital for suppliers and operators to work together on menu pricing, ranging and promotions. With consumers so sharply focused on value, it's also essential to deliver consistently high quality and memorable experience via ingredients, serve and other factors. Our research helps achieve these two important goals by pinpointing the mixed drinks trends to track and the consumer demands to satisfy."
The 'Mixed Drinks Q1 2023 Report' is available to purchase now, with opportunities to tailor findings with bespoke analysis. To learn more and purchase the report, click here and email Matthew Meek at Matthew.Meek@nielseniq.com.