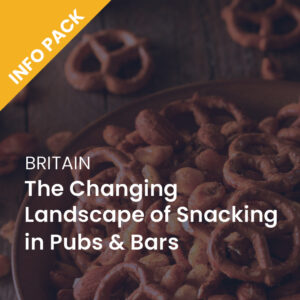 The exclusive Food Insights Spotlight Report 'The Changing Landscape of Snacking in Pubs and Bars' is part of CGA's Food Insights series. It sets out big trends and consumers' expectations in the snacking category, equipping manufacturers, suppliers, and operators with the insights they need to adapt and succeed in this fast-evolving market.
Trends and opportunities highlighted by CGA's in-depth consumer research for the report include: 
The size of the opportunity

… 68% of consumers say they purchase packaged snacks when visiting pubs and bars

 
Category choices

… Crisps are the most popular package snack followed by nuts and chocolate 

 
Frequency

… Crisps and nuts are typically bought once per visit by more than two thirds of snacking consumers.

 
Spend

… Typical spend is highest for breakfast bars and rice cakes and lowest for crisps and nuts. 

 
Costs

… Consumers expect to see the cost of packaged snacks rise over the next year, with most expecting an increase.

 
CGA's report provides many more insights into the dynamics of the snacking market, giving manufacturers and suppliers crucial information to make smart decisions and capitalise on emerging opportunities.
Andy Hodgson, CGA senior business development manager, said: "Snacks have long been part of the On Premise mix, and with the right ranging, pricing and promotional strategies they can deliver valuable extra sales. But this is a very competitive and fast-changing part of the market, and market intelligence is vital. Investment in accurate market analysis is central to achieving a deep understanding, and the CGA team are ready to help businesses realise the potential of the snacking sector." 

 
To learn more about the Food Insights Spotlight Report 'The Changing Landscape of Snacking in Pubs and Bars' and other research in the Food Insights series, click here and email andrew.hodgson@nielseniq.com.