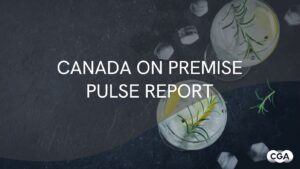 The report shows that the summer season is shaping consumers' decision to visit On Premise venues, with 44% of consumers admitting they're more likely to visit bars or restaurants when outdoor seating and patios are open. Having the option to sit outside and enjoy the warmer weather during the summer months is a factor in the decision to visit, and 3 in 5 consumers say the option is important/very important when choosing where to visit.
The weather doesn't just influence the seating preference but also influences the choice of beverage. 29% of consumers said their drink preferences change when using outdoor patios/seating. Suppliers and operators alike can have a direct influence on consumers' path to purchase given their affinity for enjoying their visits on patio's, providing offerings that resonate with their expectations and behaviors.
Of those who have visited the On Premise in the last 3 months, just over half have been drinking beer (52%), and table wine is just behind at 34%. 24% are drinking cocktails, which links with consumers behavior on patios in outlets providing refreshing, summer cocktails.
The report found that 84% of consumers have visited the On Premise for food-led occasions in the past month and 36% for drink led occasions, with next month expecting similar visitation levels.
Matthew Crompton, Regional Director – North America said – "We can see the summer months having an impact on the visitation levels to bars and restaurants  and the factors that consumers consider when choosing where to visit. Venues with outdoor seating are primed for steady footfall and can benefit from understanding consumers drivers in outlet to increase their margins and profitability."
CGA's Canada On Premise Impact Report surveyed 1,200 respondents in Ontario, Alberta, British Columbia, and Quebec who all visited On Premise venues in the past 3 months.
Download the latest Canada On Premise Consumer Impact Report here
This report focuses on consumers decisions and satisfaction. This allows CGA to reflect on how people are visiting the On Premise and what the sector can expect in the future. To learn more about CGA's consumer research and market measurement services across Canada, please contact Matthew Crompton at matthew.crompton@cgastrategy.com