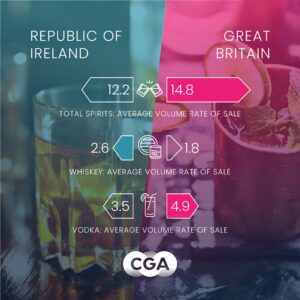 Understanding the variations in consumer behaviour and sales trends—and adjusting strategies accordingly—is crucial to the success of any supplier or operator targeting both territories.
Here are three of the headline differences: in beer, spirits and pubs.
Beer
CGA's On Premise Measurement (OPM) service shows the Republic of Ireland trumps Britain in key beer categories. It's no surprise to find that stout's average return on sale by volume is about five times higher in Ireland than in Britain—but the Republic also has a 19% lead in draught lager. Across the whole Long Alcoholic Drinks (LAD) category, Ireland's ROS is 28% higher than Britain's.
Spirits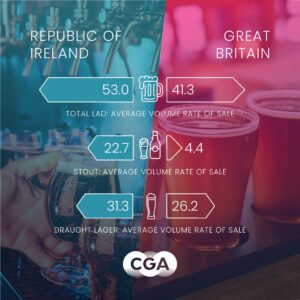 While Ireland wins on beer, Britain takes the honours in spirits. Total ROS in this segment is 21% higher in Britain, and vodka runs 41% ahead. However, Ireland's interest in whiskey, and its renowned distilleries, mean it outstrips Britain by 44% on this sub-category. CGA's 'Vodka v Whiskey' report takes a deeper dive into Ireland's spirits preferences, and reveals how consumers' habits have changed since the end of COVID restrictions.
Pubs
CGA's Outlet Index confirms that Ireland's reputation for pubs is well earned. While Britain has one pub for every 1,829 people, the Republic has one for every 1,208—a concentration of outlets that is 34% higher. These ratios mean that while Britain's pub sector is eight times larger, drinkers have a much wider range of pubs to choose from in Ireland—so competition is fiercer.
Sian Brennan, CGA's client director, Ireland

"These fascinating numbers show just how important it is for operators and suppliers to approach different markets with different strategies," says Sian Brennan, CGA's client director, Ireland. "The Republic of Ireland has a unique pub and bar culture that demands a deep understanding of sales trends and the way drinkers interact with venues, categories and brands. Its On Premise is building back well from COVID, and as new normals of behaviour start to emerge, CGA's data can help all businesses to work out how to respond nimbly and grow share."
CGA's fusion of sales, outlet and consumer helps operators and suppliers unlock insights into numerous aspects of Ireland's On Premise. It supports businesses' decisions on brand positioning, ranging, outlet planning, marketing and much more. For further details, email Sian Brennan at sian.brennan@cgastrategy.com.