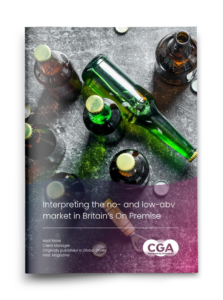 CGA by NielsenIQ's latest report looks at the development of Britain's no and low market since the pre-pandemic period, and highlights which consumer and sub-category trends operators and suppliers should pay attention to when building their On Premise no and low strategies.
The report revealed Beer is still the no and low categories driving force, with it making up 72.6% of no and low total sales. Despite Beer reigning supreme in the no and low category, Beer has experienced the slowest advancement within the mindful beverage On Premise market with other categories steadily gaining pace.
Spirits have had an impact in curbing beer's growth, with the subcategory increasing by 576% in volume and 565% in value and is now representing 15% of all pounds spent on alcohol alternatives in the On Premise.
It's clear that there's an increasing demand for no and low beverages, and with 31% of Britons saying they drink or would consider drinking lower-alcohol cocktails shows the desire for a wider variety on no and low alcohol offerings within the On Premise.
Matt Meek – CGA by NielsenIQ Client Manager said – "There's a clear opportunity for the On Premise to really expand their range of no and low beverages, with both the demand for more variety and the appeal growing for a range of audiences, now is the perfect time for brands, suppliers and operators to be using this information to their advantage and thinking about their planning and strategy for the rest of 2022 and beyond"
For more insights on no and low beverages, you can download Interpreting the no-and low-abv market in Britain's On Premise here or to find out more about CGA's capabilities across the On Premise industry, email Client Manager Matt Meek at matthew.meek@cgastrategy.com.