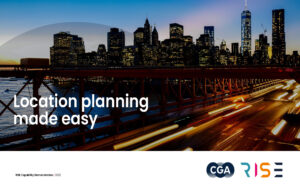 The latest Hospitality Market Monitor from CGA and AlixPartners reveals that Britain's On Premise saw a net decline of 2,230 sites in the third quarter of 2022. While some closed venues have been reopened by new tenants, many properties are now available to ambitious businesses—often at better-than-usual terms from landlords keen to increase occupation levels.
CGA research for the Top Cities series of reports with Wireless Social has highlighted particularly good opportunities in Britain's biggest cities, including Birmingham, Glasgow and Manchester. The reports have shown a steady return of sales and footfall to regional cities since the end of COVID-19 restrictions—and while London has been slower to recover, closures in the capital mean there is excellent potential for the future here as well.
However, selecting the right locations in these and other places makes all the difference between success and failure. CGA's RISE (Retailer Intelligence and Sales Effectiveness) service supports this crucial decision-making by revealing consumer demographic and behavioural profile, competition, sales performance, pricing and much more in specific areas, reducing the risk of mistakes and matching brand strengths to the optimum streets in cities and towns.
RISE is powered by a number of CGA's core services including Outlet Index, which crunches more than half a million pieces of data per year to create Britain's most accurate and up-to-date database of licensed premises. This is blended with CGA's MATCH consumer segmentation to achieve powerful insights into how people eat and drink out from location to location. Operators can use it to analyse target areas right down to postcode level, understand the local competition and see overviews of sales and pricing over time. RISE can be fully integrated into businesses' own EPOS, CRM and other data sources for the best possible understanding of the potential performance of locations.
CGA client director Andy Dean says: "The news from our Hospitality Market Monitor that well over 2,000 premises closed in the third quarter reflects the tough trading conditions in hospitality now. But amidst all the challenges there are exciting opportunities for start-ups and growing brands to take advantage of empty units and advantageous deals from landlords. With so many properties to choose from, it is absolutely crucial to achieve a hyper-local and up-to-date understanding of potential locations before committing to any openings. RISE provides the perfect set of tools to help businesses make the right decisions and lay the ground for growth."
To discover more about RISE's capabilities, click here and email CGA by NielsenIQ client director Andy Dean at andrew.dean@cgastrategy.com.