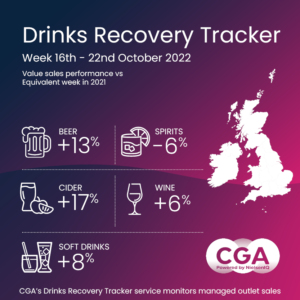 CGA by NielsenIQ's latest Drinks Recovery Tracker shows average sales in managed venues in the seven days to Saturday (22 October) were 6% up on the same week in 2021. It is the highest uplift since the start of September, and an encouraging sign for the crucial last two months of the year.
Mild weather helped to bring people out to eat and drink throughout the week, resulting in year-on-year growth on six of the seven days, peaking at highs of 11% and 10% on Monday and Wednesday (17 and 19 October)—though sales were marginally down by 0.2% on Friday (21 October). This continues the year's pattern of weaker sales on Fridays than Saturdays, as after-work drinking occasions are cut and some consumers opt for one big night out at the weekend rather than two.
Category-wise, sales of beer (up 13%) and cider (up 17%) were both in double-digit growth for the fourth week in a row. There were good uplifts in the soft drinks (up 8%) and wine (up 6%) categories too, but spirits dropped 6% year-on-year.
"It was another strong week of drinks sales in the face of some enormous challenges for businesses and consumers," says Jonathan Jones, CGA's managing director, UK and Ireland. "Year-on-year growth is creeping up towards the level of inflation, which bodes well for Christmas trading. But with the economy and consumer confidence both fragile, operators and suppliers will have to keep working hard to attract people to the On Premise over the festive season."
CGA by NielsenIQ's Drinks Recovery Tracker monitors managed outlet sales as the drinking-out market continues to recover, providing category, supplier and brand rate of sale performance versus pre-COVID-19 sales. Suppliers and operators that want to track the recovery of drinks sales, benchmark performance or identify changes in trends and consumer preferences should contact jonathan.jones@cgastrategy.com.