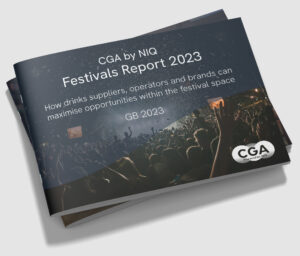 CGA by NIQ's exclusive new 'Festivals Report' shows more than half (55%) of festival-goers have tried new drinks at festivals that they haven't had in the past. This is proof that live events can be ideal platforms to launch new products to consumers who are open to experimentation.
Festival fans are ready to be engaged by brands. More than a third (37%) say branded or merchandised events positively impact their overall opinion of a drink, and nearly as many (34%) are more likely to buy the product in the future.
Activations are valuable to festival organisers as well. With two thirds (68%) of consumers agreeing that a wide range of food and drink stalls is important in their choice of festival, collaboration with food and drinks brands on unique experiences can be a very effective way of attracting visitors.
The 'Festivals Report' delivers expert insights into festival-goers' attitudes and shows their continued popularity despite the cost of living crisis. It highlights the relative affluence of festival goers, who have higher than average household incomes and monthly On Premise spends. With half (52%) visiting a festival with no set budget in mind, they are ready to spend when the opportunities arise—especially on serves that are hard to replicate at home, like cocktails.
CGA's research can help suppliers and festivals optimise NPDs and activations at festivals this summer, and highlights key areas for improvement. Visibility is among the biggest challenges, as only half of the consumers surveyed by CGA say they remember noticing activations at past events.
Lou Finn, CGA by NIQ consumer research executive, said: "Festival goers are a valuable group to target, and our report shows many will have money in their pockets and an open-minded approach to food and drink this summer. However, with their household bills rising so fast, brands will need to work harder than ever to unlock purchases. Activations will need to be bold and compelling to grab attention, and balance high quality with good value for consumers' hard-earned money. Our report can help suppliers understand what will motivate them and respond with the right strategies at this year's festivals."
CGA's 'Festivals Report' draws on an extensive survey of festival consumers and has a host of insights into current attitudes to live events. For more information click here or contact Lou Finn at lou.finn@nielseniq.com.